Why Fall Guys: Ultimate Knockout Is Causing An Uproar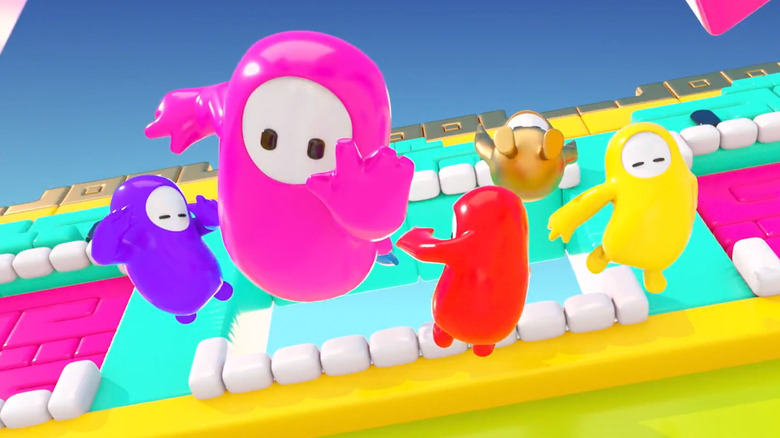 Fall Guys: Ultimate Knockout was just released this week, and the game has already drummed up a bit of controversy. The battle royale party game from Mediatonic and Devolver Digital caused an uproar when it was announced that Fall Guys would launch for free for PlayStation Plus members. This was frustrating for PC fans who had to pay for the game, but it looks like PS4 users are now having their own problems with Fall Guys.
It seems the game's servers were not at all ready for the huge number of players that joined the fun right away. As reported by NME, the game's servers had to be temporarily taken down for maintenance. While that's not entirely unheard of for a day one issue, it severely frustrated many fans.
Within hours of launch, the Steam page for Fall Guys had been filled with negative reviews. Naturally, this was a big bummer for the Fall Guys team. However, the way the negative reviews were handled on social media has been a point of contention for some people.  
In response, the official Fall Guys Twitter account made a post asking people to stop leaving negative reviews until they had a chance to actually play the game. The post read, "We're currently being review-bombed on Steam... We're working really hard to get running smoothly for SO MANY players! We know it's super frustrating, but if you could hold off from negatively reviewing – Until you get chance to play the game, it would really help us out."
It's understandable that Mediatonic would ask for people to refrain from giving the game a bad reputation right off the bat. As pointed out in the post, some of the people complaining have fallen victim to server issues that have prevented them from even playing the game for themselves. In other words, the negative reviews are aimed at the server issues, not the actual content of the game itself. However, that is still kind of a fair criticism.
What doesn't seem fair, according to some fans, is to label negative critiques of the game as "review bombing."
This point has been echoed by PC Gamer's Tyler Wilde, who felt the Fall Guys team has been wrong to frame this as "review bombing" on social media. As Wilde put it, "A 'review bomb' is a semi-coordinated effort to tank a game's user rating as a form of protest. It begins when a group is united by shared anger over some element of a game or something a developer said."
This has been seen with such games as Pokemon Sword and Shield, as well as Borderlands 3. With both of those games, the majority of the negative user reviews began flooding in months before the games had even been released. In both of those cases, gamers were protesting issues they had with the games, such as Sword and Shield's limited Pokedex or Borderlands 3's status as an Epic Games Store exclusive.
With Fall Guys, however, the complaints haven't come from something that exists outside of the game itself. Instead, the many negative reviews seem to be from people complaining about the myriad server issues, as well as problems with the gameplay or the presence of microtransactions. In other words, some folks feel like it's disingenuous to call this a case of review bombing. 
That feeling became compounded shortly afterwards, when fans decided to organize a round of "positive review bombing." Tons of fans began a concerted effort to leave glowing reviews of Fall Guys on Steam, bringing its rating back up. 
In response, the Fall Guys Twitter account wrote, "Wow, you are seriously the best! You've positive-bombed our review score back to Mostly Positive! I didn't know that was a thing? Thank you so much for your belief in what we're building here! Hopefully server issues will continue to improve!"
Some people were very pleased to see this response, with one person tweeting that the "positive review bomb" had restored their faith in their fellow gamers. Others have expressed their relief that the game is working much better now than it was at launch. At least a few fans acknowledged that server issues are to be expected when launching a new multiplayer game. 
Still, some people felt like this practice didn't necessarily give people a proper idea of what to expect from the game. One person felt that people shouldn't leave a review just to make the developers happy, but that they should instead review the game based on their own experience playing it.
All in all, this cutesy party game is causing much more of an uproar than anyone could have expected. Hopefully the server issues will continue to be sorted out and reviewers will be able to give the game a bit more of a fair shake.