Sony Reportedly Locking Up Games For PS5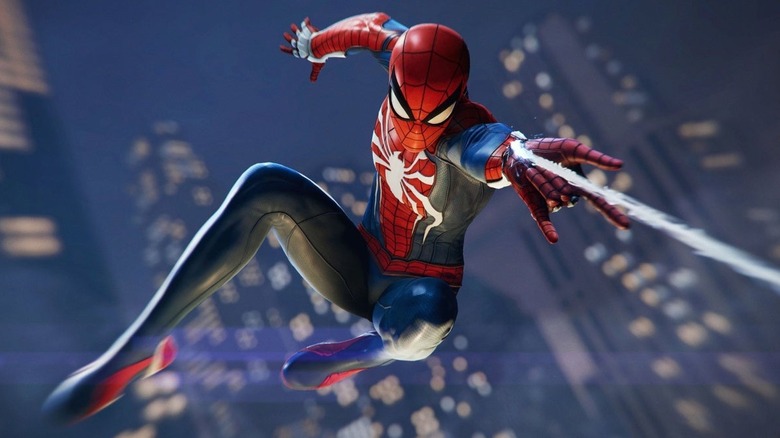 The release of the PlayStation 5 is on the horizon. Sony has already advertised some incredible PS5 exclusives that look poised to blow fans away. However, new comments from people in the know seem to hint at an even broader slate of exclusive games.
In a recent episode of Kinda Funny Games Daily, co-host and former Game Informer editor Imran Khan dropped some tantalizing tidbits regarding the future of PlayStation exclusives. The topic of exclusive content came about during a discussion of the recent controversy surrounding Sony's announcement that Spider-Man would be an exclusive character in the PS4 release of Marvel's Avengers. Following a conversation concerning the complicated rights history behind the Spider-Man character and franchise, Khan revealed that Spider-Man was just the first of a series of shocking exclusives for Sony fans.
"There are things you will be shocked to find out that Sony is moneyhatting, that they are locking up for timed exclusivity," said Khan. He then described the kinds of games and content supposedly being locked down by Sony as "huge."
Khan continued, "So I am ... interested to see where this conversation is going to be in a couple of months, because there are games that are widely accepted as multiplatform that Sony is locking up for a little while."
Khan didn't go into any further detail, which seemingly got his co-host even more excited. What's interesting about the wording in Khan's statements is how it seems to hint that we have already heard about the games in question. That would seem to indicate that big franchise installments that have already been announced will end up being timed exclusives for Sony platforms. What widely known multiplatform games could turn out to be PS exclusives?
We already know that Spider-Man: Miles Morales will be a PlayStation 5 exclusive. But what about something like Resident Evil 8: Village, which was first announced during Sony's Future of Gaming livestream event? Getting a tentpole franchise game like that as an exclusive for the PlayStation 5, even for just a short while, would be a huge win for Sony.
Exclusive franchises and timed exclusives in general have been a bit of a controversial issue among gaming fans for quite some time. When Borderlands 3 was announced as a timed exclusive for the Epic Games store, it led to some vicious review bombing from Steam users who felt they'd been cheated out of access. Even the recent reveal of several Xbox Series X exclusive games has been seen as Microsoft seemingly breaking its promise of giving gamers more choices of where to play upcoming content. As cool as exclusive content may be in many cases, it can also be seen as exclusionary for hardcore fans.
These latest hints from Imran Khan echo also something he recently wrote in a ResetEra thread regarding the subject of Sony exclusives. According to Khan (via Reddit user NOGOGNOBUY), Sony has actually approached all third party developers regarding exclusivity deals. Khan explained how this may end up giving the PlayStation 5 a significant leg up in the next console generation.
Khan wrote, "Some [developers] had content, some had games, some had content and games. It is not like Microsoft was not willing to offer, they just didn't want to pay the asking price, because Sony approached with pretty high numbers in the first place."
In other words, it's very likely that Spider-Man's appearance in Marvel's Avengers is just the beginning. It could be that Sony is holding onto more character-based exclusives or console incentives for future games, just like with Spider-Man in Marvel's Avengers. Maybe there will be more PS-exclusive content coming to Marvel's Avengers in particular, which may be disappointing for Marvel fans. If Sony really has been pursuing these deals as aggressively as Khan says, then fans may need to anticipate losing out on certain content if they purchase a game on any platform other than the PlayStation 5.
However, the uproar over the exclusive content doesn't seem to be phasing Sony one bit. Just a few days ago, the company posted a video hyping up the many exclusives that will be available for gamers picking up Marvel's Avengers for PlayStation consoles. These incentives include new costumes, special community events, and of course, the Friendly Neighborhood Spider-Man. 
This video also promotes Sony's new "PlayStation Advantage" initiative. This spells out Sony's intention to actively pursue exclusive content as a way of enticing gamers to stick with PlayStation. Even if Imran Khan hadn't essentially told fans to keep an eye out for more exclusives in the future, it's pretty obvious that this is going to be a major part of Sony's marketing going forward.