Shroud Finally Reveals Where He's Going To Stream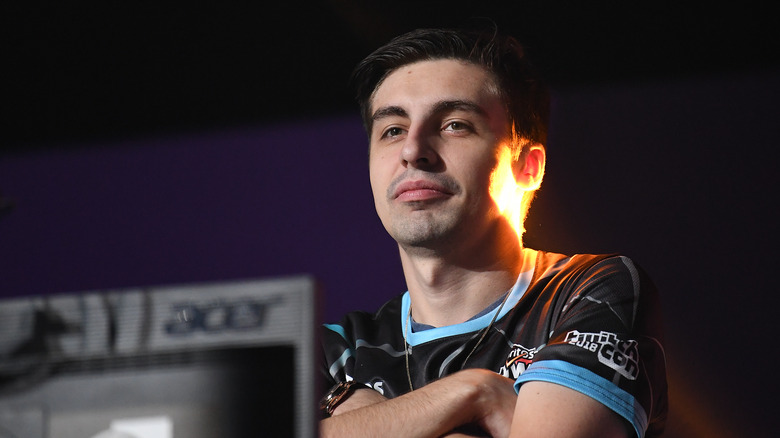 Robert Reiners/Getty Images
VIdeo game streams are becoming more and more popular as time goes on. It doesn't matter if you watch Twitch, YouTube, or some other streaming site. If you name a popular game, someone somewhere is probably streaming it. Sometimes, streamers are so popular that platforms use them as leverage to garner viewers. For instance, Microsoft offered streaming stars Shroud and Ninja lucrative deals if they abandoned Twitch for Mixer. Unfortunately, Microsoft's dreams quickly evaporated and Mixer went belly up, which raised the question of what would happen to those on its roster. After a long and protracted silence, Shroud has finally revealed what comes next for his career.
Earlier today, Michael "Shroud" Grzesiek announced via Twitter that he is "coming home," as in, he's returning to Twitch. More importantly, he plans to hold a homecoming stream on Aug. 12 at 11 a.m. PT (2 p.m. ET). However, he hasn't said what he will play to celebrate his return. His announcement features clips of Apex Legends, Valorant, PlayerUnknown's Battlegrounds, Grand Theft Auto Online, and Call of Duty: Modern Warfare, but the snippets could be less a sign of what he will play and more of a collection of his best/favorite gaming moments. For all anyone knows, Shroud could stream a relaxing session of virtual reality Minecraft.
Shroud initially began his professional gaming career playing Counter-Strike: Global Offensive, but he has branched out to similar titles. He has played Rainbow Six Siege, Apex Legends, Valorant, and even Fortnite. Moreover, Shroud augments his streaming career with impressive esports prowess. He has joined prominent esports teams such as Manajuma, Exertus eSports, and Cloud9, and has gone on to win numerous esports championships at best, and placed in the top 5 at worst. On a side note, rumors have floated around the internet that professional Valorant player Mohamad "mOE" Assad plans to create a professional Valorant team and recruit Shroud. While Shroud has stated that going pro on a Valorant esports team would be difficult — if not impossible — since streaming would essentially sabotage his own strategies, he didn't rule it out entirely. If you don't stream your strategies, you can't sabotage yourself.
While Shroud joined Mixer in late 2019 — several months after rival streamer Ninja signed a similar Mixer exclusivity deal — his followings on platforms like YouTube and Twitch have not deteriorated. His YouTube and Twitch subscriber numbers hold steady at 6.41 million and 7.1 million, respectively. And judging by the general response to Shroud's news, many people look forward to his return. His announcement has amassed a ton of responses, almost all of them well wishes and celebratory memes. Shroud's statement has also garnered the attention of PC gaming businesses such as PowerGPU, as well as the esports team Luminosity Gaming. While Twitch didn't retweet Shroud's announcement, it posted its own hearty "welcome back" tweet.
After Mixer croaked, Shroud reportedly had a difficult decision ahead of him. According to a spokesperson for Loaded (a talent firm that represents streamers), Shroud considered streaming on YouTube and Facebook — the latter of which tried to tempt Shroud (and Ninja) with contracts worth double their Mixer contracts. However, after weighing his options, Shroud decided to return to Twitch because it features. as he put it, "the best and most loyal gaming community worldwide."
While Shroud will stream once again on Twitch, he will start fresh with a brand new look and logo, but he probably will remain the same old Shroud audiences love. However, his return isn't all good news since followers will have to re-subscribe to his channel, although die-hard Shroud fans might not mind the hassle.
Shroud's Twitch comeback is reportedly due to yet another exclusivity deal, although nobody knows how much he will get out of it — yet. Meanwhile, Ninja has yet to sign any more contracts and streams wherever he wants, primarily on Twitch and YouTube. Moreover, Cory "King Gothalion" Michael — the third member of Mixer's triumvirate of prominent exclusive streamers — is following Ninja's example and streams on YouTube and Facebook Gaming instead of signing an exclusivity deal.
Given the amount of effort that went into Shroud's one and a half minute long video, he is trying to play up his return as a big event. If he plays his cards right, Shroud's big return might see a huge turnout. Only time will tell if he can gather enough viewers to break Twitch's servers.