There's A Surprise Hidden In Marvel's Avengers Files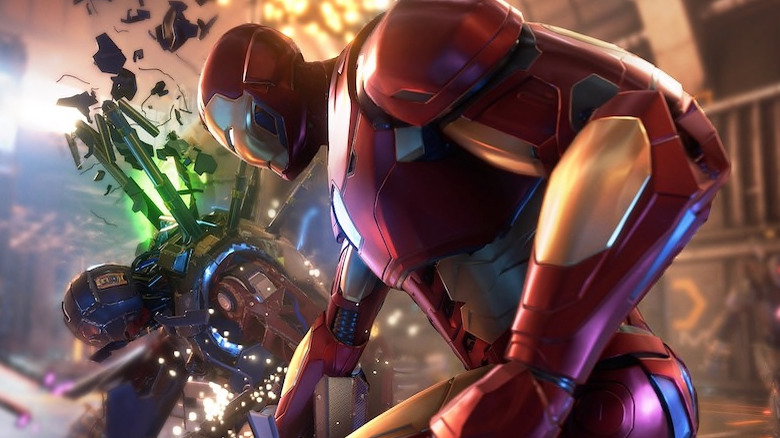 The beta for Marvel's Avengers is underway, and anticipation for the game's official release is continuing to grow. In a few weeks, fans of Earth's Mightiest Heroes will be able to lead some of their favorite characters into battle against the forces of MODOK and all other kinds of baddies. Even more exciting is the news of a leak that may confirm some new heroes heading to the game after launch. 
Dataminers on Reddit have posted files from the game's beta that contain references to characters who haven't been featured in any of the game's promotional materials: She-Hulk, Kate Bishop, and War Machine. This has led some fans to believe that these three heroes will be among the post-launch DLC characters that have been teased by Crystal Dynamics for quite some time. 
Just who are these characters and why were they specifically chosen for this game? Despite the fact that they're maybe not as well-known as some of the other characters, there are actually a few pretty good reasons for each of them to be joining the fun in  Marvel's Avengers.
War Machine has of course become a huge part of the Marvel Cinematic Universe, where he's been portrayed by actor Don Cheadle since Iron Man 2. War Machine's civilian identity is James "Rhodey" Rhodes, the best friend of Tony Stark, a.k.a. Iron Man. He's typically portrayed in the comics as wearing a suit of armor very similar to Tony's, albeit with much heavier artillery. The addition of War Machine in the game should give comic book fans even more explosive mech action to look forward to. In the comics, Rhodey has also filled in for Tony Stark as Iron Man on more than one occasion. Considering the fact that the Avengers are outcasts in this take on their story, we may see War Machine fulfilling a similar function. He's also arguably the most recognizable of these leaked characters.
Kate Bishop is an interesting choice, especially considering the fact that the Clint Barton version of Hawkeye has already been announced as a post-launch DLC character. In the comics, Kate Bishop also went by the name of Hawkeye, opening her own detective agency and occasionally fighting crime alongside the original Hawkeye. Kate has become a fan favorite character in the comics, which has led to the development of a Hawkeye television series for Disney+. This show is set to feature the return of Jeremy Renner as Hawkeye, reprising his role from the Marvel Cinematic Universe. The series will presumably follow Clint Barton's efforts to move on after the events of Avengers: Endgame and is set to feature Kate Bishop training to take on the mantle of Hawkeye.
She-Hulk is another exciting addition, given that she will also be the lead character of a series currently in development for Disney+. She-Hulk is also known as Jennifer Walters, the cousin of Bruce Banner, the Incredible Hulk. In the comics, Jennifer transformed after receiving a blood transfusion from her cousin Bruce, however most depictions of the character have her keeping her intelligence. Instead of turning into a full rage monster like the Hulk, She-Hulk uses her super strength to help people when she's not working her day job as a successful lawyer. Fans of Deadpool may also find a lot to enjoy about She-Hulk, since the comics often depict her as being aware that she's in a fictional story. This leads to plenty of fourth wall breaking humor in She-Hulk's adventures.
The possible inclusion of these three as playable characters would be a smart move. All three of them are characters with strong connections to three Avengers that are already featured in the game. The inclusion of Kate Bishop and She-Hulk will also bring extra attention to their upcoming TV shows, making for a clever tie-in in to other Marvel media.
Then there's the Spider-Man of it all. Fans have been in an uproar since it was announced that Spider-Man would be released as a free DLC character exclusive to the PlayStation 4 version of Marvel's Avengers. This has been seen as an insult to many fans who will be playing the game on other platforms. Perhaps the news that more free characters are officially coming will help to soothe the burn of missing out on everyone's favorite wall-crawler.
Marvel's Avengers launches on September 4. The exact release date of Hawkeye and Spider-Man (or any of the other bonus characters) are unknown. However, Hawkeye is expected to be available shortly after the game's release, while Spider-Man won't be swinging onto PlayStation platforms until next year.