Why The Decision DC FanDome Just Made Is So Important
Warner Bros. has pulled out all the stops in preparation for its virtual convention, DC FanDome, which seems poised to be the con event of this very odd summer. While the festivities were originally scheduled to take place on Saturday, August 22, the programming poobahs of Detective Comics and WarnerMedia have decided to spread the events out to include Saturday, September 12, and this is very good news for fans (via EW).
The one-day-only event was always going to feel a little bit overcrowded. With high-profile projects like The Flash, Wonder Woman 1984, James Gunn's The Suicide Squad, and Batwoman to explore — not to mention all the likely suprises — the thought of wading through it all in one August Saturday felt a bit dizzying. While you get a certain manufactured heat by cramming everything into one simultaneous extravaganza, the expansion to include September 12 is ultimately a much better deal for fans.
Warner Bros. issued a statement about the change, indicating that the company made the decision in response to fan criticism of the one-day-only approach: "In order to super-serve our fans and provide the best possible experience, DC FanDome has been expanded into two global events, the first on August 22nd — DC FanDome: Hall of Heroes, and a second on-demand experience in DC FanDome: Explore the Multiverse on September 12th, where fans can create and curate their own adventure."
A two-day DC FanDome means more customizability for fans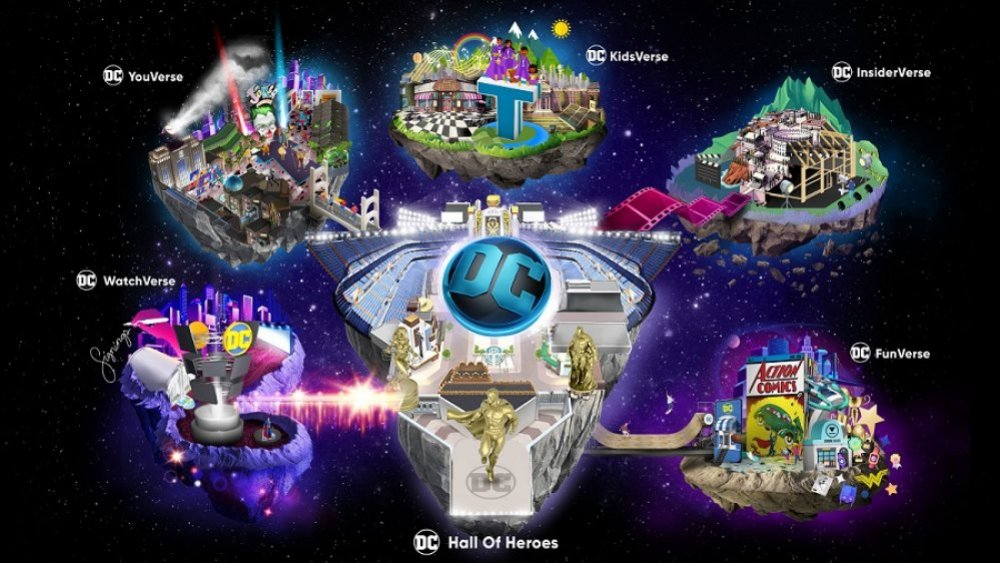 Warner Bros./DC Entertainment
After caving on the Snyder Cut of Justice League a few months ago, Warner Bros. may be exposing itself to criticism that it's letting online outrage dictate its content strategy, but this cynical take ignores the fact that expanding DC FanDome is an obvious improvement for both fans and Warner. It's basically a win-win. Warner now gets two weekends of frothing coverage for their marquee projects, and fans have more time to explore all the virtual experiences that company's been preparing for months.
The new schedule begins at 1 PM Eastern on August 22, and will center around the DC FanDome: Hall of Heroes, an online environment designed by Jim Lee himself and featuring panels, programming, and exclusive news from across the spectrum of DC media. The Hall of Heroes was always one of FanDome's main attractions, and now fans will have an entire day devoted to exploring upcoming films, TV shows, comics, video games, and much more. The programmers plan to loop the "live" event three times in the course of the day, so if you miss the first broadcast, you can always tune in later.
The September 12 programming also begins at 1 PM Eastern. On this day, fans will be allowed to engineer their own schedules from the interactive offerings. The remaining panels, presentations, and big reveals will all be available on demand, to be consumed at your leisure. The kid-friendly section of DC FanDome, aptly named DC Kids FanDome, will also take place on September 12. Prepare accordingly.