This Black Ops Cold War Leak Confirms Our Worst Fear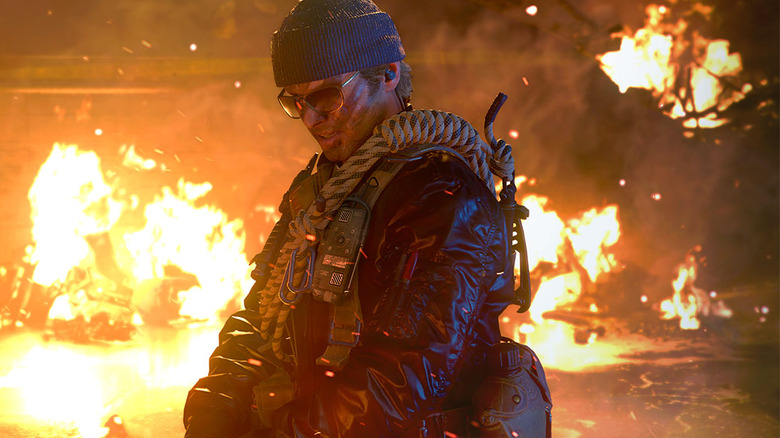 The release of Call of Duty: Black Ops – Cold War is just a couple of months away, so fans are naturally grabbing at any details they can get regarding the new game. As with every new Call of Duty entry, people are hoping to see their favorite game modes and features make a return. Unfortunately, a new leak has revealed the absence of a beloved feature, as well as the return of something that fans aren't all that crazy about.
According to noted Call of Duty info leaker TheMW2Ghost, Call of Duty: Black Ops – Cold War will not feature the Prestige leveling system that was present in multiple games, beginning with 2007's Call of Duty 4: Modern Warfare. In Prestige Mode, players can reach a level cap and reset, and can also earn a badge of honor each time they hit the cap, or "Prestige."
"Just got word that 'prestige is likely not returning' in #BlackOpsColdWar," tweeted TheMW2Ghost, "this comes from one of our main sources who has given us a lot of stuff previously."
Instead, as mentioned by TheMW2Ghost, Black Ops – Cold War will continue utilizing the seasonal ranking system that was introduced in 2019's Modern Warfare reboot. With this newer progression system, the older Prestige rewards were replaced with different military ranks. By earning enough XP, players can be "promoted" from Enlisted Ranks to Officer Ranks. By leveling up, players are given access to more Loadout options, as well as different cosmetic blueprints. Officer Ranks also give players access to different Officer Challenges, which in turn earn players an impressive chunk of XP. However, if a player grinds past level 55, they are reset to that point at the end of every Season of the game. It's a significantly more complex system than Prestige, which has led to a rather chilled response from many longtime fans of the series.
There are some definite bright sides to the newer ranking system, but there are also plenty of drawbacks. It almost goes without saying, but many fans are not at all pleased with the news that Prestige may not be returning. One player tweeted that a Black Ops game without Prestige "isn't a game I'm interested in." Another player concurred that the current level cap "is so unrewarding and sad. It genuinely makes me go off the game."
Some fans took a more neutral position on the news. One player said that they just hoped there were improvements made to the current leveling system, if it truly is here to stay. As they pointed out, it's way too easy for some seasoned players to hit the level cap with events like double XP weekends.
Others didn't seem to see what all the fuss was about. It seems that the current ranking system actually has its fans. Or at the very least, there were some fans who weren't too surprised by the development.
This news was seemingly corroborated by ModernWarzone, another notable info leaker for the Call of Duty series. They wrote, "As of right now, it looks VERY doubtful that prestige mode is returning with #BlackOpsColdWar."
However, there may still be a silver lining for fans who are sorely disappointed by this news. It seems that ModernWarzone hasn't completely given up hope that Prestige could still be implemented in the game before it officially ships. ModernWarzone added, "Plans change however, and we are still more than 2 months from release."
As pointed out by ModernWarzone, it was originally reported by some leakers that the popular "Dead Silence" perk would be M.I.A. in Black Ops – Cold War. However, more recent leaks have seemed to indicate that it will be present in the new game. In others words, there's still a chance that the developer could end up adding a modified version of Prestige into the final version of the game.
Call of Duty: Black Ops – Cold War will be released on Nov. 13. While it's looking like Prestige rankings will be done away with, fans may be happy to see some of the new content on the way. A few minutes of gameplay have been leaked from a new multiplayer mode, which seems to take players from the usual battlegrounds of the CoD series and into the seedy streets of 1980s Miami. There are also the continuing rumors that Zombies Mode will be featured in Black Ops – Cold War in some fashion. 
In other words, there is still plenty for fans to look forward to with this new game, even if Prestige turns out to be a no-show.