Leak Reveals Mode Returning To Call Of Duty 2020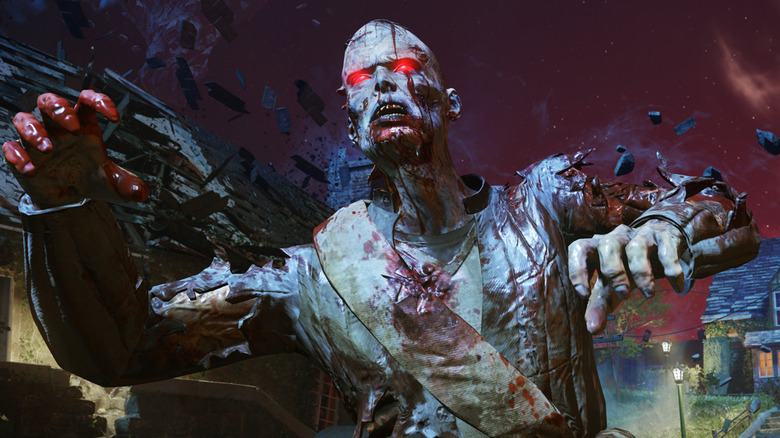 It looks as though Call of Duty fans will soon be able to battle the undead once more. That's right; if a dataminer's recent findings are to be believed, the beloved zombies mode will soon be making its triumphant return to Call of Duty.
For those who missed it, the latest bit of gossip attached to the Call of Duty franchise is the appearance of a mysterious game called The Red Door on the Microsoft store. While it has yet to be confirmed, there are numerous clues that seem to point to this game actually being a tease/placeholder for the next entry in the Black Ops subseries, Call of Duty: Black Ops – Cold War. Not even that title has been confirmed, but fans and dataminers alike are pretty sure that this is where the franchise is heading next. In fact, the latest bit of data uncovered from The Red Door file seems to point to a lot of good news for longtime Call of Duty fans.
While digging around in The Red Door's code, data miner Prototype Warehouse seems to have uncovered several file tags pertaining to the setting and different modes for the upcoming game. Several of these tags were posted to Twitter, containing strings and phrases like "ger_stakeout," "nam_armada," and "rus_siege," which would seem to point to missions taking place in Germany, Vietnam, and Russia, respectively. Other missions seemingly revealed in this series of tags includes a side mission taking place in the tundra. In other words, whatever this game is, it's shaping up to be something of a globetrotting adventure.
Also spotted by Prototype Warehouse are hints at new maps for Call of Duty: Warzone, as well as some references to the codename "silver." Prototype Warehouse tweeted the phrase "silver" along with the hashtag #ZM, or "zombies mode." As Inverse's Tomas Franzese points out, "We probably won't know what ["silver"] is referring to until Treyarch and Activision unveil zombies for this year's Call of Duty."
Zombies were originally introduced to the franchise in Call of Duty: World at War, and the mode was created as a fun side project by the team at Treyarch. Originally intended to be a goofy easter egg within World At War, the zombies mode has grown to become a staple of the franchise. 
Call of Duty fans have already had one heck of an eventful year. First was the launch of Call of Duty: Warzone, a battle royale game that has quickly become a favorite of gamers like Ninja and TimTheTatman. Though Warzone has had a few issues in terms of exploits that players can use — including shooting people while they're parachuting in and being able to kill opponents through buildings with a truck — fans have come around to really enjoying the game, warts and all. 
Following the release of Warzone, Activision surprised fans with the release of Call of Duty: Modern Warfare 2 – Campaign Remastered. While this addition led to a bit more drama in the Call of Duty community — including a ban of the game in Russia — the remaster was well-received by the majority of fans.
It's looking more and more likely that The Red Door is in fact the new Black Ops game. At this point, it's kind of wild that nobody from the Call of Duty team has made a more formal announcement regarding the new game. In fact, the existence of Call of Duty: Black Ops – Cold War has basically become the worst-kept secret in video games at this point. Some people believe that the new Call of Duty game will be revealed later this week during Microsoft's big Xbox Series X livestream event. However, it seems more likely that the livestream will be more focused on Xbox's first party and exclusive titles like Halo Infinite. In other words, for everything new that we learn about the new Call of Duty, there are multiple other things that have yet to be confirmed.
Hopefully an official announcement will be coming soon regarding the game's title and some kind of release window. Considering the fact that The Red Door's listing on the Microsoft store is teasing a gameplay alpha, we probably won't have to wait long for an official word. 
In the meantime, fans should be happy to see the return of the ever-popular zombies mode. If it takes a bit little longer for a confirmation on the next full installment of the series, then at least the promise of a new zombie-killing mode should make fans feel better about the wait.