Why Super Mario 3D All-Stars Is Seriously Disappointing Fans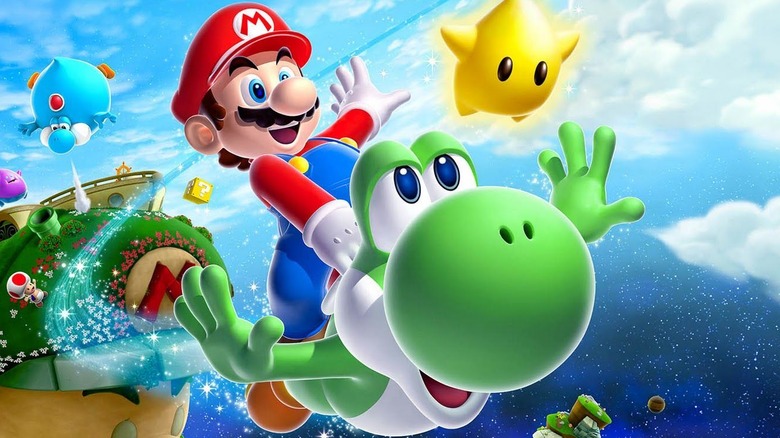 This year marks the 35th anniversary of Super Mario Bros. for the Nintendo Entertainment System. As a way of celebrating, Nintendo recently announced a slew of new and re-released titles coming to the Nintendo eShop. However, there are a few details to these new releases that may come as a severe disappointment to some hardcore fans.
During this week's Nintendo Direct, the company showed off a new battle royale title called Super Mario Bros. 35, as well as an impressive HD collection of some of Mario's 3D adventures. The collection is aptly named Super Mario 3D All-Stars and it is a bundle featuring the classic games Super Mario 64, Super Mario Sunshine, and Super Mario Galaxy. While fans are obviously over the moon with this announcement, there is a glaring omission that is bugging plenty of people. The question on the minds of many Mario fans is: where is Super Mario Galaxy 2?
It's not as though the game is an embarrassment to the series or anything. If Super Mario Galaxy 2 had been poorly received or vastly underperformed when it was released, then it would make a certain amount of sense for Nintendo to sweep it under the rug like this. However, that's not at all what happened when the game made its debut.
At the time of release, Super Mario Galaxy 2 was beloved by fans and gaming journalists alike. IGN's Craig Harris gave the game a perfect score, writing that it improved on every aspect of the original that worked so well, but also added plenty of new content and big ideas. Harris wrote, "if anything, the reason why Super Mario Galaxy 2 is so damn fantastic is mostly due to the fact that the team learned from the first game ... The result of that effort is one of the most refined and most fulfilling videogame experiences of this generation."
The review concluded, "Most of all, Super Mario Galaxy 2 perfectly captures that classic videogame charm, the reason why most of us got into gaming from the start."
The second Galaxy game was so beloved that many fans still wonder if there will ever be another sequel to the series. Fans are trying to figure out why exactly the game hasn't been included in the 3D All-Stars collection. Video game blogger 9 Volt wrote, "Super Mario Galaxy 2 is the best Mario game. this collection is not complete without Super Mario Galaxy 2."
Meanwhile, games industry analyst Daniel Ahmad made some jokes about the situation, saying that Nintendo couldn't get the rights to Super Mario Galaxy 2 from Nintendo. Basically, there seems to be no legal reason why Super Mario Galaxy 2 couldn't be included in the new collection.
However, the absence of Super Mario Galaxy 2 isn't the only disappointing factor in this release for fans. There's also the bizarre choice on the part of Nintendo to only offer the game bundle for a limited time. Super Mario 3D All-Stars will only available until March 31, 2021, after which it will apparently be gone from the Nintendo eShop forever. That also goes for Super Mario Bros. 35, which will be released on October 1 and will leave the Nintendo eShop on the same day as Super Mario 3D All-Stars. 
It's unclear why Nintendo has made this choice. It could be that the company is trying to stress that this is only being released as a 35th anniversary promotion. On the other hand, the limited time availability may also be a tactic from Nintendo to drive sales upon release. This is obviously a bummer, but it also means that anyone who is on the fence about snagging Super Mario 3D All-Stars (or Super Mario Bros. 35) needs to go ahead and get it while the getting's good. 
Also, this doesn't necessarily mean that Super Mario Galaxy 2 won't ever be coming to the Switch. Screen Rant posited that Nintendo may simply be waiting to announce a Super Mario Galaxy 2 remaster as a follow-up to the 3D collection, hopefully ensuring that fans who loved the first one will quickly snap up the second one.
Luckily for fans, some of the upcoming celebratory Mario releases will be available for plenty of time to come. A reissue of the original SNES Super Mario All-Stars has just been added to Nintendo Switch Online, and that title notably doesn't have an expiration date attached to it. Neither does Super Mario 3D World + Bowser's Fury, an enhanced version of the Wii U's Super Mario 3D World that launches in February of next year.
While the exclusion of Super Mario Galaxy 2 is clearly a disappointment for fans, it seems like Super Mario 3D All-Stars is still shaping up to be a loving tribute to some of the heroic plumbers greatest adventures. Super Mario 3D All-Stars will be released on the Nintendo eShop on September 18. Get ready to hunt down some Stars and clean up Shadow Mario's graffiti.