This Chart Shows Terrible News For Xbox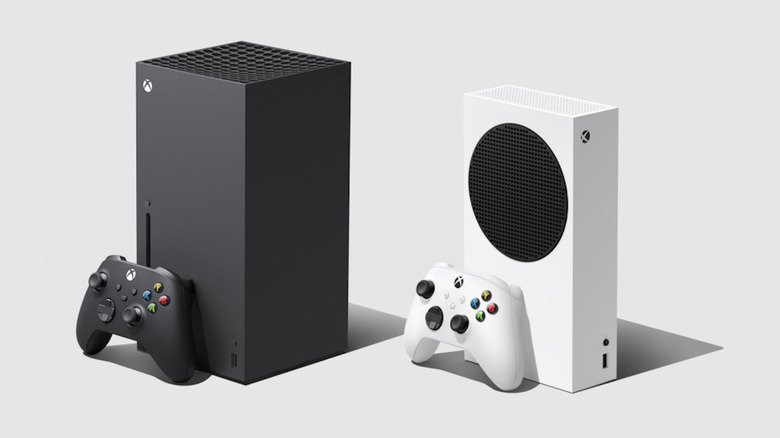 This week, Microsoft announced not only the Xbox Series S, but also a price point and release date for the Xbox Series X. With the next console generation gaining momentum and Microsoft beating Sony to the punch on these announcements, it's easy to wonder if Xbox might have this console war in the bag. However, new research seems to indicate that Xbox is still going to fall behind when the PlayStation 5 launches.
Ampere Analysis is a marketing research firm that specializes in media and content. A few months ago, Ampere Analysis released its findings regarding projected sales for the next console generation. At the time, Ampere Analysis projected that the PlayStation would not only dominate sales this year, but that the PS5 would go on to nearly double the sales of the Xbox Series X within the next five years.
Since the announcement of the Xbox Series S, Ampere Analysis has gone back to its notes to see how Microsoft may fare in the next console generation. Unfortunately for the Xbox family, things are still not looking too great.
The newest findings were presented by analyst Piers Harding-Rolls, and were accompanied by a chart that shows an ever-widening gap between the sales of the Xbox consoles vs. the PlayStation 5.
New analysis on Microsoft's console positioning and #XboxSeriesS news here. With updated next-gen forecasts https://t.co/8pr2wahhP9 pic.twitter.com/pyxCWQ5zX1

— Piers Harding-Rolls (@PiersHR) September 8, 2020
Harding-Rolls clarified on Twitter that he expects the PS5 to sell around 5 million units this year alone, while the Xbox Series X and S are likely to move closer to 3.9 million units. That gives PS5 a head start of over one million consoles sold in a very short window of time. According to the data collected by Ampere Analysis, that is a lead in sales that PlayStation will continue to build off of as the next console generation rolls on. By the end of 2024, Ampere Analysis expects the PS5 to have sold roughly 67.3 million units, while the Xbox consoles will have sold somewhere around 44.3 million units. While this is a more generous forecast than the previous one, which saw PlayStation and Xbox selling 66 million and 37 million units respectively, it still doesn't look fantastic for Xbox.
In a more in-depth post, Harding-Rolls took a look at how Microsoft's marketing strategy has changed over the course of the year. Harding-Rolls was sure to acknowledge that Microsoft had made great strides in the lead-up to this console launch, pointing out that Xbox has several key factors that aren't afforded to PlayStation owners, such as Xbox Game Pass and Xbox All Access. Harding-Rolls wrote, "Sony does not currently have an adequate competitive response to Xbox Game Pass. The digital-only nature of Xbox Series S means it is a strong fit for services like Xbox Game Pass." 
He also pointed out what a winner Xbox All Access is at this point. According to Harding-Rolls, Xbox All Access was another thing that would likely mean more sales for Microsoft, since All Access allows gamers more flexible financing options during a time of economic difficulty.
"There is no doubt that Microsoft is better positioned to compete with Sony at the upcoming launch of the latest consoles compared to the Xbox One and PS4 generation," Harding-Rolls wrote. Despite this, it appears as though the analyst still feels the PlayStation 5 is trending towards outselling the new Xbox consoles.
According to Harding-Rolls, there are a few different reasons why PlayStation may still remain the leader in console sales. Harding-Rolls is of the opinion that the release of two consoles with very different specs (the Series S and Series X) may end up clouding things for gamers, and could make marketing the two machines more difficult.
This idea was supported by a note from marketing research firm DFC Intelligence. The note criticized Microsoft for creating more confusion with its second console, writing that the Series S announcement "smacks of a last minute Hail Mary by Microsoft to appeal to consumers on price."
Harding-Rolls also wrote that he expects the release of the Series S to split sales, with more customers going for the less expensive option. On one hand, this could end up being a good thing for Xbox. Harding-Rolls speculated that the Series S could convince more people to take the leap to next-gen gaming sooner than they'd anticipated, thanks to the lower price point. On the other hand, Harding-Rolls seems to believe Microsoft could start strong out of the gate, but may not be able to keep that momentum going as the console war rages on.
In other words, it seems as though things are still trending in the same direction for the Sony vs. Microsoft battle. However, that could all still change whenever Sony announces the price points for the PlayStation 5 and PS5 Digital Edition.