Good News Just Dropped About Japan's Super Nintendo World
After months of delays due to the ongoing COVID-19 pandemic, an opening day for Universal Studios Japan's highly anticipated Super Nintendo World has finally been set. 
Universal Studios Japan revealed in a press release issued on October 6, 2020 that the park-within-a-park will open sometime in early 2021. An exact release date is forthcoming, and the company stated that it will be announced "soon."
The core conceit of Super Nintendo World is a special wearable accessory called a Power Up Band that allows users to interact with objects and areas scattered throughout the park. By pairing the wristband with a smartphone app, park-goers will have the chance to replicate at least a portion of the experience of playing a Mario game in the real world. They'll be able to hit blocks (with their hands, not their heads) to collect coins and items, team up to take down bosses or larger challenges, and compete in minigames, because what Mario experience would be complete without a little tennis, painting, or dispensing prescription medication? Exact details on the minigames are forthcoming, but throwing fireballs at fellow park attendees or jumping on them are presumably off the table. In addition to the augmented reality experience, Super Nintendo World will feature rides based on Mario Kart and Yoshi, as well as the standard array of shops, restaurants, and photo opportunities, all set against a multi-level Mario background that looks straight-out of a screenshot, complete with a Bowser's Castle centerpiece.
Super Nintendo World is still several months away, but the Mario Cafe and Store is coming soon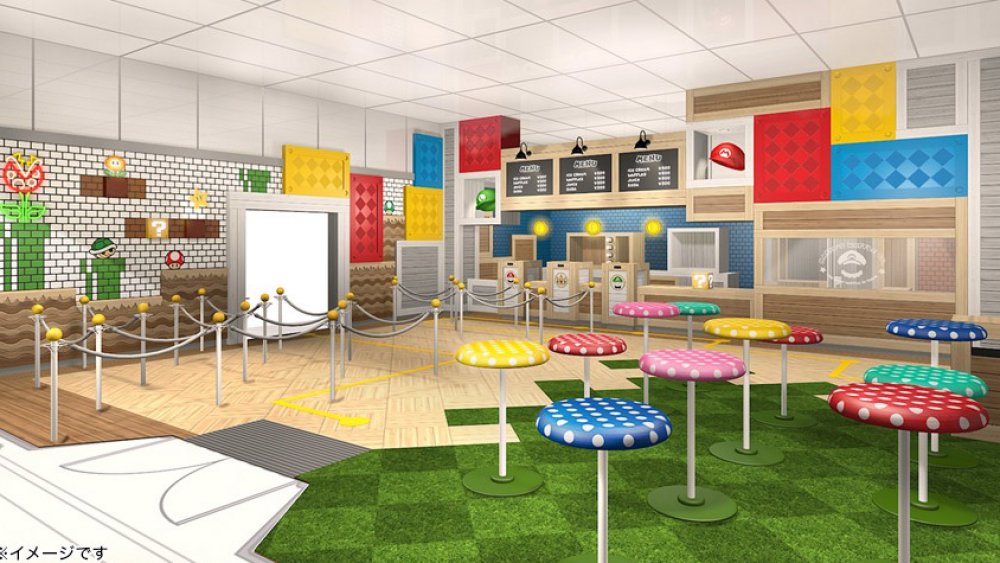 Universal Studios Japan/Twitter
While the park won't be ready until after the new year arrives, the world's first Mario Cafe and Store is set to open at Universal Studios Japan on Oct. 16. The store will carry a variety of Mario-themed merchandise, while the cafe will offer pancake sandwiches shaped like Mario and Luigi hats, cream sodas with mustache straws and souvenir Super Mushroom bottles rather than actual, consumable giant red mushrooms. Fans expecting Yoshi's cookies or The Legend of Zelda-themed Dubious Food will have to wait to see if those are available in the full park in 2021. 
Universal Studios Japan's Super Nintendo World was originally scheduled to open in the summer of 2020 ahead of the Tokyo Olympics, and the new date gives the park time to find its feet before the rescheduled games kick off in July. Additional Super Nintendo Worlds are being planned for Universal Studios theme parks in Florida and California, though reported construction delays likely mean they won't open to the public for a matter of years.