No One Expected This PS5 Reveal To Come From Burger King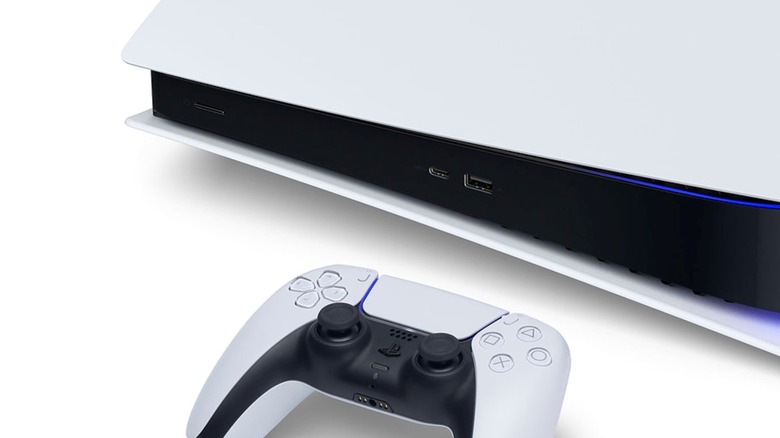 Sony
The next-generation hype is building to a fever pitch for the Nov. 12 launch of Sony's PlayStation 5 console. For the past few months, gamers across the globe have been treated to a series of exciting reveals. Thus far, the actual PS5 hardware, DualSense controller, media remote, HD camera, Pulse 3D wireless headset, and several day-one games have been shown off. Even with all those official debuts for the PS5, its associated peripherals, and first and third-party titles, there's been one piece of information everyone is still desperate to see: the PS5's user interface. Judging by a recent tweet from an unexpected source, the wait may soon be over.
Burger King's official Twitter account released a 15-second teaser that featured the fast food company's mascot peering into a bag. While the bag stood open, a bright blue light emitted from within, accompanied by a mysterious startup sound. The clip ended with the iconic King looking into the bag for a second time, walking off with it, and leaving "10/15" in his wake.
The intriguing piece of footage came with the caption "do Whopper sandwiches normally do this?" This seems to allude to the strange activity displayed by that mysterious Burger King bag. For those who've stayed on top of PS5 news, the Burger King teaser seems to be pointing to the official reveal of the console's UI on Oct. 15.
What makes Burger King's quick Twitter video look like it's connected to PS5 is the fact that the official PlayStation Twitter profile retweeted the footage. As far as the PS5 UI boot-up audio is concerned, the short teaser from Sony's June presentation sounds exactly the same as the one heard in the BK bag. A revealing tweet from MinnMax's Ben Hanson even included footage of the same boot-up audio sequence, which a lot of people may have missed the first time around. With all that in mind, signs point to Sony and Burger King collaborating on a promotion together to showcase one of the PS5's most important elements.
This isn't the first time a fast food giant has entered into a fruitful partnership with a gaming company. Back in 2015, Sony gave away 6,000 Limited Edition Gold PS4 bundles in a promotional contest with Taco Bell. In 2016, Taco Bell and Sony worked together again on a special PlayStation VR prize pack giveaway. Burger King even entered into a prior union with Sony for a PS4 promotion in 2017. In a fun stunt, Burger King gave PS4 owners the opportunity to order a Whopper and fries from the comfort of their controller.
Burger King has released some video games of its own, which includes the cult classic Sneak King, PocketBike Racer, and Big Bumpin' for the original Xbox and Xbox 360. Burger King's main rival, McDonald's, also has some video games under its belt, such as McDonald's Treasure Land Adventure on the Sega Genesis. KFC even joined in on the gaming fun earlier this year when it jokingly unveiled the KFConsole. On the other side of the next-gen console coin, Taco Bell is currently linking up with Microsoft to run a contest for fans looking to win an Xbox Series X.
PS5 news has been dropping at a rapid rate since the system's big reveal presentation back in June. One of the more interesting bits of video content centered on the PS5 in recent weeks was a console teardown that gave fans a thorough look at everything that makes up its complex hardware. When it comes to the console's hot topic of backward compatibility, Sony provided an official blog post that explained how certain PS4 games will be compatible with the PS5. Out of a collection of 4,000+ physical and digital PS4 titles, only 10 of those games won't be playable on the next-gen system.
In contrast, some gamers were disappointed to learn that many of the games believed to be PS5 exclusives would also be coming to PS4 as cross-gen releases. Titles that fall into that description include Marvel's Spider-Man: Miles Morales, Horizon: Forbidden West, and Sackboy: A Big Adventure. The announcement that the PS5's Tempest 3D AudioTech wouldn't be compatible with traditional TV speakers on launch day was also quite the letdown. Hopefully, whatever Sony and Burger King have prepared for Oct. 15 will help bolster any flagging spirits.