Sony Just Took Back One Big Promise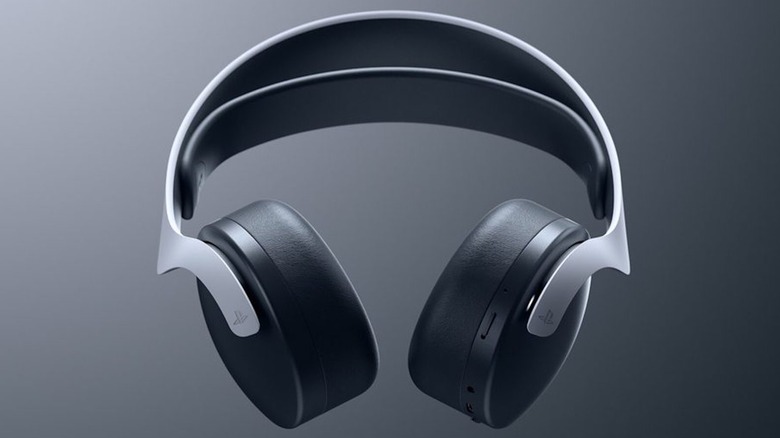 Sony
Sony told fans this past summer that many of their PS4 accessories will still work with the PS5. This came as quite a relief for gamers who were hoping to enjoy the system's new 3D audio capabilities with their current equipment. While that is still the case, Sony recently revealed that there will be some notable limitations when it comes to the PS5's new audio.
A blog post from Sony's Isabelle Tomatis gave gamers a good look at the upcoming 3D Pulse wireless headset, which has been designed to take full advantage of the PS5's Tempest 3D AudioTech. Although the 3D Pulse certainly looks impressive, featuring all kinds of different settings and a sleek design, the big news here was what wouldn't be compatible with Tempest 3D AudioTech. According to Tomatis, traditional TV speakers will not be compatible with 3D audio on launch day.
"Headphone audio is the current gold standard for 3D Audio on PS5 ... We're also in the process of working on virtual surround sound through speakers that are built into TVs," explained Tomatis. "Although TV speaker virtual surround sound won't be available on launch day for PS5, it's still a feature we are extremely excited about, and our engineers are hard at work on bringing it to PS5 in the future."
Now, this doesn't mean that TV speakers won't work with the PS5 at all; it just means that the PS5's 3D audio cannot be simulated by traditional TV speakers at this time. This news may be especially frustrating for any fans who have been hyped about PS5's audio advancements for the last several months. It's hard not to feel like Sony broke some promises regarding how revolutionary the PS5's audio would be.
Lead PS5 architect Mark Cerny was touting the PS5's custom 3D audio unit as far back as April 2019, before the new console had even been formally announced. At the time, Cerny told Wired that Sony was developing a way to "make you feel more immersed in the game as sounds come at you from above, from behind, and from the side." Cerny also said that this new audio format would utilize "significant amounts of hardware horsepower."
Elsewhere in the new blog post, Tomatis listed some of the games that will be compatible with PS5's Tempest 3D AudioTech, and it looks as though most of the PS5's launch lineup is accounted for. These games included Spider-Man: Miles Morales, Horizon: Forbidden West, and Resident Evil: Village. There's no word yet on whether or not Bugsnax will also benefit from PS5's 3D audio, but one can only hope.
Although it is exciting to know that a majority of the PS5's biggest titles will support Tempest 3D audio, Tomatis' post seems to confirm that not every game released for the system will make use of this technology. Much like the PS5's approach to Smart Delivery, it looks like Sony will be leaving the choice of utilizing 3D audio to individual developers, rather than making it the standard for PS5 releases.
This update concerning 3D audio is the latest in a series of frustrations for PlayStation 5 fans. Last week, it was reported that memory expansions for the PS5 will likely cost users a pretty penny, possibly even more than Xbox's own costly external SSD. Then it was confirmed that the PS5 Digital Edition has a big disadvantage when it comes to backwards compatibility, mostly due to its lack of a disc drive. The list of things that fans can't stand about the PS5 seems to be growing by the day.
The reaction to this latest audio news has been decidedly mixed. Of course, there are plenty of people who simply can't believe that the PS5 won't support 3D audio through TV speakers at launch. One person on Twitter commented that such a thing shouldn't be possible in the year 2020. However, plenty of other gamers have pointed out that, traditionally, television speakers aren't exactly the best way to get your game audio. Headsets have been and continue to be an important accessory for gamers.
Aside from the 3D Pulse wireless headset, there weren't any specific headsets named in this latest PlayStation blog post. However, on the positive side of things, Tomatis made it abundantly clear that 3D audio functionality will not be limited to the 3D Pulse. 
Tomatis explained the many options afforded to gamers when it comes to listening to the games that do have 3D audio. While the big focus of the blog post was on the functionality of the new Pulse 3D wireless headset, gamers can use previously released headsets to enjoy the same level of immersion. "On the PS5, you'll be able to experience 3D Audio with the headphones that many of you already own, either through USB connection to the console, or by plugging your headphones into the DualSense wireless controller's 3.5mm headset jack," explained Tomatis.
Although some fans are clearly frustrated by the lack of support for 3D audio from televisions, it is encouraging to see that gamers most likely won't be limited by which headset they have. For anyone who wants to snag a 3D Pulse wireless headset, they are currently available for preorder. The new headsets will launch alongside the PlayStation 5 and PS5 Digital Edition on Nov. 12, 2020.