This Miles Morales Detail Is Sending Fans Into A Rage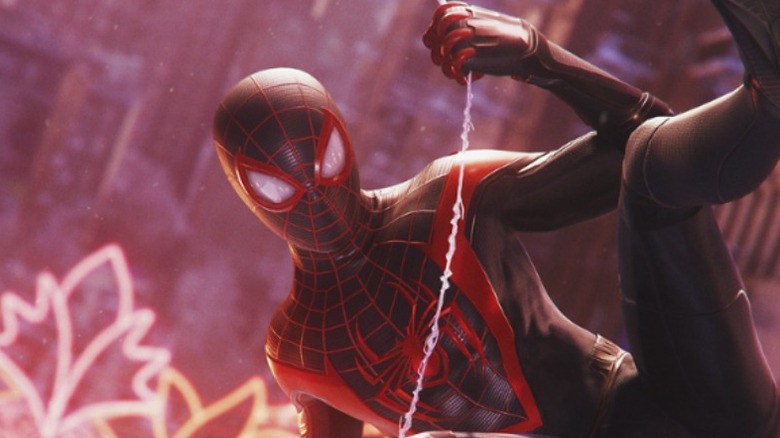 Sony
It's interesting to note just how much clothes can be tied to culture — and even more, how much they can be tied to fictional characters. Batman has his cowl. Superman has his cape. And Miles Morales? Miles has his Jordans.
Miles Morales first donned the sneakers in the film Spider-Man: Into the Spider-Verse, which was a huge hit with fans and critics alike. The kicks became an essential part of Morales' costume, so when Insomniac Games posted a photo on Twitter from the new Spider-Man: Miles Morales game showing him not in A1s, but in a pair of Adidas, it caused a bit of an uproar among fans.
The tweet, posted on Oct. 12, is a mock-up of a Daily Bugle article speculating the arrival of a new Spider-Man. The photos in the article appear to be screenshots from Spider-Man: Miles Morales as well as concept art. But it's the final photo in the set that has people talking; Miles sports a conventional Spidey costume underneath a red hoodie, blue jacket, and athletic shorts — and very prominently, a pair of red Adidas high-tops.
Another post from the Twitter profile Fandom (@getFANDOM) pointed out the change, and the comments section exploded. Some didn't understand the controversy, stating "they are just shoes," while others posted memes and gifs of a heartbroken Michael Jordan. A reply from Twitter user @KeithTPowers reads: "I love Adidas but no. Put the ones back on, Miles."
There is likely a simple explanation for the brand change — most notably the fact that Adidas and Marvel have teamed up for a line of limited-edition shoes titled "Heroes Among Us." Within the collection are sneakers with their own Marvel heroes attached, including Iron Man, Black Panther, Thor, and Captain Marvel. Yet Spider-Man is strangely missing — could it be that the shoes we see in the Spider-Man: Miles Morales screenshot are soon to be added to the collection? Is this an early Adidas marketing tactic?
Millennials who grew up in the '80s and '90s will remember the phenomenon that was the Nike Air Jordans line. The original design was released in 1985, and endorsed fully and enthusiastically by the legendary man himself — Michael Jordan of the Chicago Bulls. Even non-sports fans knew his name, and like Miles Morales, Jordan originally hails from Brooklyn.
There is a defined convention that comes from growing up in New York City, and Miles is a huge representation for that. Miles also comes from both black and latinx backgrounds, which makes him an important icon for diversity in the Marvel universe. He's also just a normal teenager, smart and awkward and highly relatable.
The shoes Spider-Man wears might not seem like a big deal, but at the end of the day, it's about more than Nike versus Adidas. Miles as Spider-Man means a lot to people, and the Jordans he sports in Into the Spider-Verse symbolize a subculture that often doesn't get the respect it is due. "Since its debut in 1985, the Nike Air Jordan sneakers have been more than a basketball shoe in the black community. They have become everything from a fashion accessory to a status symbol," wrote Jay Scott Smith for The Grio. As Jamé Jackson put it for In The Know, "Nike Air Jordans started what we would eventually come to know as 'sneaker culture' and the contributions of the Black aesthetic and swag to the world."
One of the themes from the movie Spider-Man: Into the Spider-Verse is that anyone can be a hero, even a kid from Brooklyn. In the film, Miles is a typical New York teenager — he sings along to his favorite song in his bedroom, gets embarrassed by his dad, and acts super awkward when he runs into a pretty girl. He also sports the iconic Air Jordans throughout, whether wearing his school uniform or donning the black and red Spidey attire. So the idea that financial marketing might be the reason for Miles wearing Adidas kicks in the upcoming game comes as a blow for those who related to his character.
This bit of controversy likely won't stop fans from playing the new Spider-Man: Miles Morales, especially with the success of its predecessor, Marvel's Spider-Man, which won Game of the Year in 2018, Both Spider-Man: Miles Morales and the remastered Marvel's Spider-Man will be released on Nov. 12 for both PS4 and PS5 consoles — with or without Air Jordans. Hopefully game devs will see reason and offer the shoes as an unlockable skin, or possibly a DLC option.