Things Keep Getting Worse For Spider-Man Remastered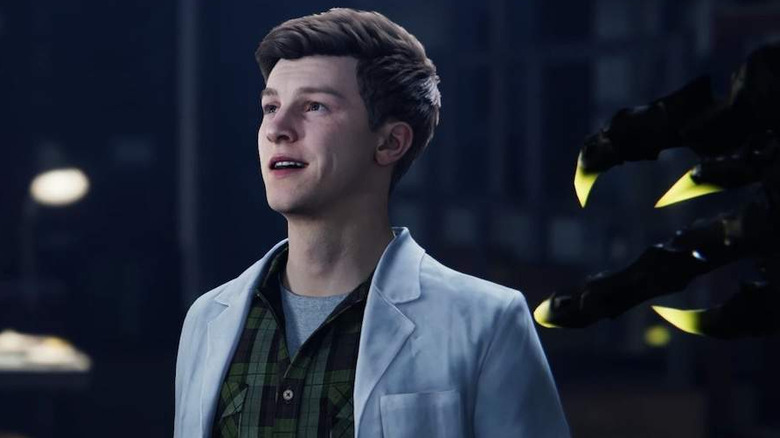 Marvel/Sony Interactive Entertainment
Within the last week, there have been a lot of interesting updates in the world of Spider-Man, not all of which have been well-received. While fans of the Marvel Cinematic Universe are reeling from the shocking news that Jamie Foxx will be playing Electro in the next Spider-Man movie, video game fans are significantly less enthusiastic about recent revelations. Yes, it seems that Spider-Man: Miles Morales and the accompanying remaster of 2018's Marvel's Spider-Man are stirring up controversy yet again. However, this time, the conflict is apparently stemming from fans who are upset with the latest news surrounding the game.
Insomniac Games revealed last week that Peter Parker had gone through something of a makeover for the release of Marvel's Spider-Man Remastered. While Peter Parker's face was originally modeled after actor John Bubniak, the remaster has replaced his visage with that of Ben Jordan. The change in face models was apparently done to better accommodate Spider-Man voice actor Yuri Lowenthal's motion capture work in the new remaster of the landmark superhero game. 
While this change was initially met with criticism, it unfortunately didn't stop there. According to recent social media posts from Insomniac Creative Director Bryan Intihar, the team behind Marvel's Spider-Man has been receiving a great deal of harassment — and possibly even threats — in recent days. 
Intihar tweeted, "To our Spidey fans: I totally appreciate your passion, but sending me threatening notes that you will 'HUNT YOU DOWN AND WE WILL FIND YOU! YOU FIX THIS NOW!' isn't cool."
Intihar added that there's enough negativity in the world right now without this kind of harassment. He tweeted, "With what's happening in today's world, let's be a force for good and be respectful of each other. Thank you."
Unfortunately, this isn't the first time in the last few months that the Friendly Neighborhood Spider-Man has been the subject of decidedly unfriendly responses from fans. Fans were in an uproar when it was announced that Spider-Man was going to be an exclusive DLC character for PlayStation releases of Marvel's Avengers.
To say that Spider-Man: Miles Morales and the related Marvel's Spider-Man Remastered have proven to be controversial is a bit of an understatement. Almost ever since the game was first announced, there have been complaints and drama surrounding it. First there was the news that the game would be significantly shorter than the original Marvel's Spider-Man. Early on, there were conflicting reports regarding the game's runtime, with many fans fearing that Miles Morales was little more than a DLC chapter. Thankfully, this turned out to not be the case.
After that, fans were super upset about Spider-Man: Miles Morales' confusing upgrade path. In order to get the full remaster of the first installment, gamers have to buy either the expensive PS5 "Ultimate Edition" of Miles Morales, or else buy the PS4 version of the game and then pay for an upgrade. Yes, it's confusing, and there is currently no option to buy Marvel's Spider-Man Remastered as a standalone title. Some have called this decision "anti-consumer" on the part of Sony Interactive.
Heck, some people were even displeased with the simple box art for Spider-Man: Miles Morales on the PS5. After all of that, it seemed like the redesign of Peter Parker's face was the final straw for a lot of disgruntled gamers. Still, it's a bit of a surprise to see that people have gone so far as to harass the development team over such a superficial change.
Since Intihar posted his tweet asking fans to stop attacking him and the Spider-Man dev team, he has received quite a bit of support from others in the gaming community. Even a few fellow directors have joined in on this. In particular, Naughty Dog's Neil Druckmann responded, "Sigh... sorry you have to deal with this crap, Bryan."
Neil Druckmann is someone who can definitely relate to this kind of treatment from so-called fans. Earlier this year, the release of The Last of Us Part 2 sparked outrage from gamers who were furious with the game's story. Many fans were put off by twists in the game's narrative. The resulting harassment included players tweeting death threats and all sorts of sexist, transphobic, and racist messages towards both the Druckmann and actress Laura Bailey, who portrayed Abby in TLOU2.
Another video game creator who defended Intihar was God of War director Cory Barlog. In an impassioned response, Barlog pleaded with the gaming community to back off of Intihar and his team and to be more constructive in their criticism. Barlog tweeted, "Please, don't...don't do this. Bryan is a good person. The entire Insomniac team is filled with hard working, great f**king people. This is not the way. We should be better to the people who make the things we love."
Spider-Man: Miles Morales and Marvel's Spider-Man Remastered swing onto PlayStation consoles Nov. 12, 2020.