PS5 Box Art For Spider-Man: Miles Morales Revelaled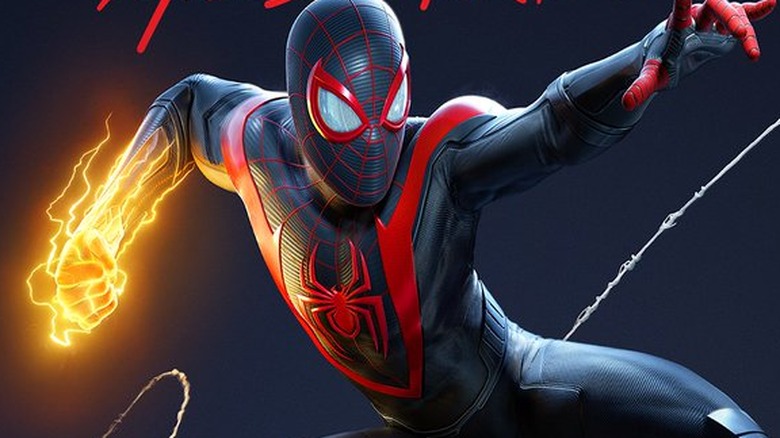 Sony's Future of Gaming show made a big splash with several reveals. Among these was the long-awaited unveiling of the PlayStation 5 itself, as well as the surprise announcement of Spider-Man: Miles Morales. Though Miles may be best known to general audiences as the lead character of Spider-Man: Into the Spider-Verse, this will be his first time starring as the lead character in his own game. Since that first trailer dropped, we haven't gotten any further big reveals related to the game. However, that has all changed.
Today, the official PlayStation Blog gave fans a taste of what to expect when they're browsing for PlayStation 5 games this holiday season. The blog post shared a look at the new artwork for Spider-Man: Miles Morales and read, "A quick update for our fans — here's your first look at the box art for PS5 games you'll be seeing on store shelves this holiday, starring Marvel Super Hero Miles Morales."
The Spider-Man: Miles Morales artwork has also been shared by notable video game info leaker, Nibel, who also posted a few alternate mock-ups for the cover art.
First look at PS5 boxarthttps://t.co/xZgtRrhxdR pic.twitter.com/sJTzXfrbGf

— Nibel (@Nibellion) July 9, 2020
The artwork feels very reminiscent of the box art for the first game in this series, Marvel's Spider-Man. It shows out hero in a dramatic pose, spinning a web and getting ready to swing into action. Energy crackles around his fist, seemingly showing off Miles' "Venom Strike" ability, which renders his enemies immobile. It's simple, yet effective. However, that's not the only big news in this reveal. Not only does it give us a good look at Miles Morales' costume, it also shows us more of PS5's new marketing aesthetic in action. 
What's also interesting about this new box art is that it appears that PlayStation is going all-in with white as a branding color. Fans were pretty shocked to learn that the PlayStation 5 and the DualSense controller were all-white, considering previous Sony consoles have been various shades of black or grey. The new color scheme does give the PS5 a sleek, somewhat futuristic look. However, some people have joked that it also makes the system look like a router, or that it strays too far from Sony's classic style. 
The reveal that the box art for PS5 games will follow a similar color pattern seems to point to PlayStation wanting to fully rebrand. Like it or not, there's no mistaking these for anything other than PlayStation 5 titles. 
And, it seems, many people decidedly do not like the new design for the PS5 boxes. One fan described the new white banner as "hideous," while another said it just looked "utterly boring." 
Some seemed to be unfazed either way. One fan in particular made a good point about how the box art aesthetics won't really impact fans who mainly buy their games digitally. This is especially interesting to note, considering the fact that Sony is releasing a digital-only edition of the PlayStation 5. It has been suggested that the games industry is already moving away from physical video game releases as a whole. 
Either way, it's clear that Sony is making a deliberate decision to move away from the color palette of previous console generations. Of course, we don't know what kinds of special edition consoles may be released in the future. It's worth remembering that a special edition PS4 Pro was released in conjunction with the first installment of Insomniac Games' Spider-Man series. Also, PlayStation's Matt MacLaurin has told gamers to expect some pretty wild special edition PS5s in the future.
Maybe fans will be able to snag a PlayStation 5 featuring the color scheme of Miles Morales' awesome black and red costume. However, it's obvious that the stark white look is going to be front and center for the standard PS5.
Spider-Man: Miles Morales is the follow-up to 2018's Marvel's Spider-Man. The plot will follow the titular Miles as he navigates learning to be a superhero in his own solo adventure. While Peter Parker and other supporting characters from the Spider-Man universe will be seen in the story, this is Miles' show. 
It's not entirely clear yet who the villains of the game are. The first game hinted at future appearances of bad guys like Venom, but it's a pretty safe bet that those baddies are being saved for the direct sequel to Marvel's Spider-Man. All that's known right now is that Miles will be throwing down with some warring gangs who have access to crazy technology, so fans had better be ready for some over the top superhero action.