The Untold Truth Of League Of Legends' K/DA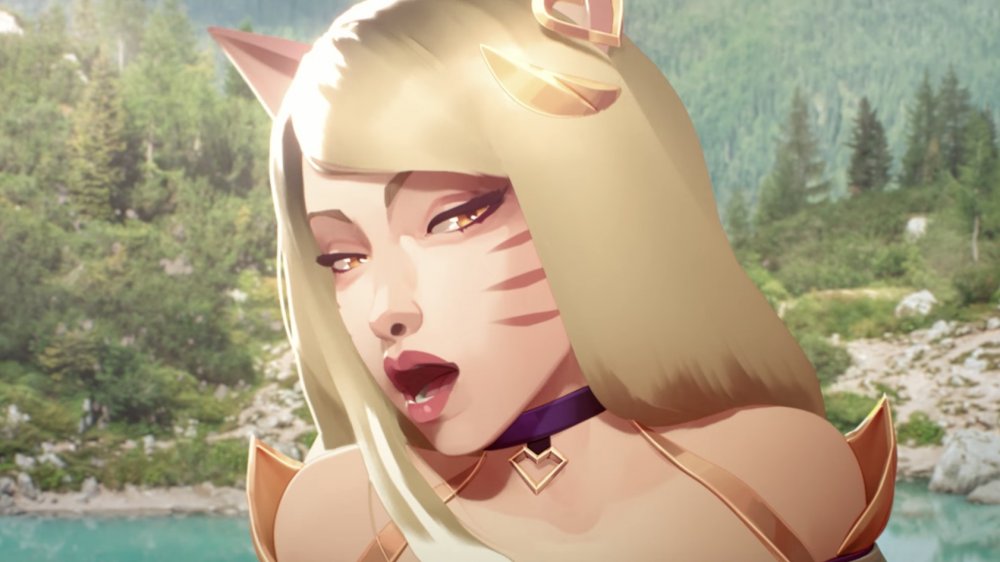 Riot Games
Riot Games introduced its girl group, K/DA, to fans at the League of Legends World Championship Finals in 2018. The augmented-reality performance K/DA put on did exactly what the gaming company hoped it would do: generate hype surrounding the event while positioning Riot Games as a bigger player within the music industry. The virtual band, complete with holograms as well as real performers, was an instant hit: The first music video, for the song "Pop/Stars," has more than 380 million views on YouTube and went to the top of several charts. (It topped Billboard's World Digital Song Sales chart on Nov. 14, 2018, for example). The band is putting out its first EP on November 6.
Basically, K/DA is a digital creation. It's a band full of characters based on League of Legends champions. Even its name is a League of Legends reference and stands for "kills deaths assists." However, this fictional group is credited with making a real impact in the esports community and beyond, bringing players back to the game and generating art, 'ships, and a fan base that includes not just gamers but K-pop fans and others worldwide. But what, exactly, is the truth behind this faux girl group? 
K/DA is basically an international supergroup
There are four characters in K/DA: Ahri, Akali, Evelynn, and Kai'Sa. While the characters have been played by real people, they haven't always been voiced by the same individual. The amount of collaborators that have been announced for the new EP likely shows that Riot Games isn't planning to limit each of the character's voices to a single person, either. 
In the past, Ahri and Akali have been voiced, respectively, by Soyeon and Miyeon of the K-pop group (G)I-DLE. In "Pop/Stars," Madison Beer and Jaira Burns played Evelynn and Kai'Sa, but for the next single, "The Baddest," Bea Miller and Wolftyla lent their voices to Evelynn and Kai'Sa. For the new EP, collaborators include the nine-member K-pop band Twice, Chinese rapper Lexie Liu, Blackpink associate Bekah Boom, German singer Kim Petras, American singer Annika Wells, and British electronic pop sensation Aluna. It's a very international lineup of popular musicians. 
And given the star quality represented here, it's clear that K/DA is no ordinary musical group. Riot Games certainly isn't limiting the talent they bring to the table, although fans don't yet know how all those voices will be incorporated into the songs and if they're meant to portray particular characters. Still, all its members have successful careers of their own, so the fact that they're coming together for K/DA is a coup for the company and for the fans. It also shows how video games are crossing into mainstream culture.
They have a fictional backstory and personalities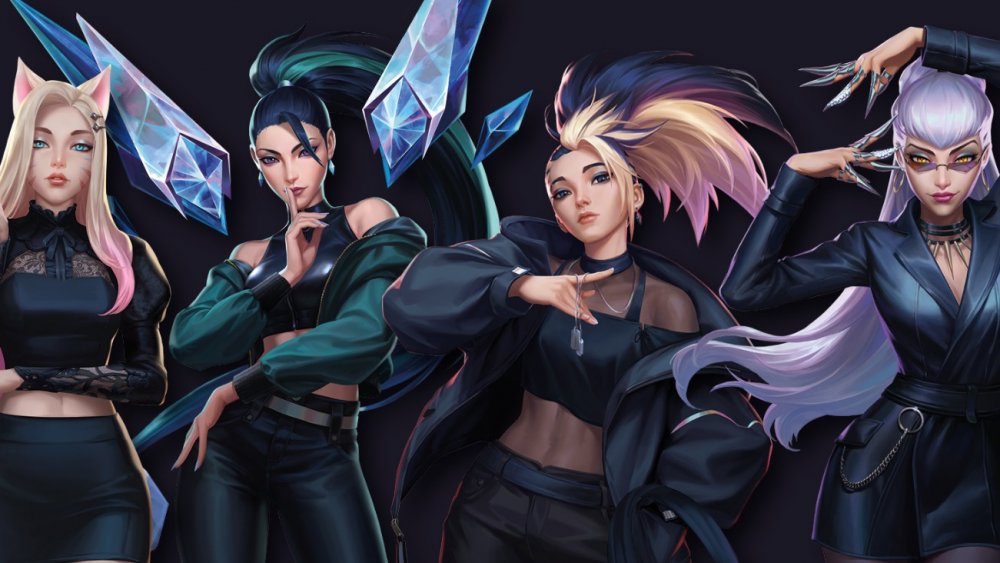 Riot Games
According to multiple interviews with the band on the League of Legends website, K/DA all started when leader Ahri broke off her contract with her previous label because she felt stifled by pop music norms. She and Evelynn began collaborating and then decided to expand. Ahri discovered Kai'Sa as she was looking for a skilled dancer. Akali — the rapper, producer and lyricist — filled in the team's missing link.
However, their initial overwhelming success with "Pop/Stars" led the group to take a break following their exciting debut. Ahri went to the beach, Kai'Sa went back to her dance studio for new ideas, and Akali started a new collective called The Damage. They're now in "the second era" of K/DA, which includes the new EP and a collaboration with "new girl" Seraphine, who Evelynn discovered in August 2020 after K/DA was tagged in social media posts showcasing Seraphine's work.
Ahri is the "calm center of the group," while Kai'Sa is intense and focused, perhaps as a result of growing up all over the world. Co-founder Evelynn has a "hypnotic stage presence" but is considered difficult to work with, and Akali has punk style "with a brash, dangerous streak." They're very different people, as pointed out in K/DA's comic, but together, they make up more than the sum of their parts.
Ahri, speaking in an interview with PopRox, said, "I believe our music celebrates self-expression, love, beauty, friendship, and confidence. We will take that all over the world."