Why The New Star Wars Game Is Causing An Uproar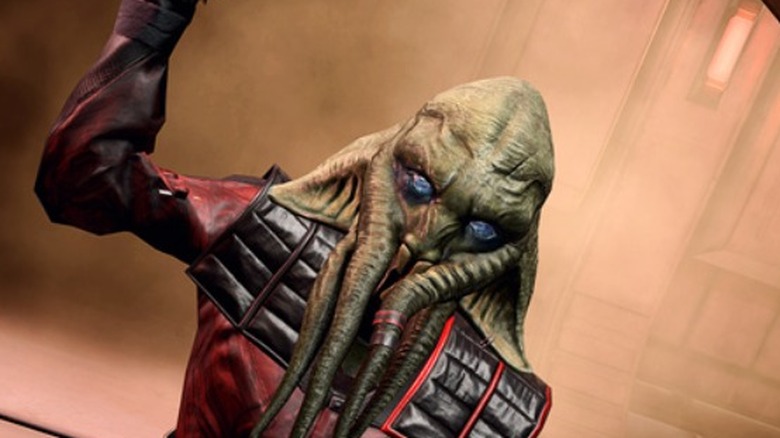 Disney Electronic Content
VR developer ILMxLAB released a new trailer for Star Wars: Tales from the Galaxy's Edge that announced the official release date as Nov. 19, 2020. However, the trailer also caused a backlash among gamers, some of whom balked at the gameplay, the close tie-in with the Disney theme park attraction, and the title's exclusive launch on the Oculus Quest platform.
Star Wars: Tales from the Galaxy's Edge is the latest of many Star Wars VR games produced by ILMxLAB, and follows up its 2019 release Vader Immortal. The new game is an anthology-style story covering events from across the entire range of the Star Wars canon. The adventures begin at the Black Rock Spire outpost that makes up the Disney World attraction Galaxy's Edge.
Vader Immortal released to mixed reviews. Despite this, today's announcement that actors Frank Oz and Anthony Daniels would voice their original characters Yoda and C-3P0 seemed to build some excitement for Tales from the Galaxy's Edge. Rounding out the cast are Bobby Moynihan as the bartender Seezeslak and Debra Wilson as antagonist Tara Rashin. Moynihan is a veteran of the Star Wars: Resistance animated series and a fan favorite SNL skit, while Wilson appeared in Star Wars: Jedi – Fallen Order.
The revelation that the game is exclusive to the Oculus Quest platform used up some of that goodwill. Responses to the official Twitter announcement from ILMxLAB ranged from elated for current owners of an Oculus Quest to confused owners of related Oculus products such as the Oculus Rift S. Others noted that Vader Immortal was exclusive to the Oculus Quest but eventually made it to other platforms, including PlayStation VR.
The issue of VR exclusivity, timed or otherwise, has been a contentious one for ILMxLAB. One Redditor observed after the release of Vader Immortal that the VR market isn't large enough to try and split consumers into dedicated consoles. VR systems are pricey, as well, and few gamers can afford more than one to play different games. One developer responded on Reddit, claiming that VR games aren't profitable enough to produce without the subsidies exclusives provide and that unlike consoles and PCs, different VR systems have vastly different requirements.
Some of the backlash about the decision to release Star Wars: Tales from the Galaxy's Edge exclusively on the Oculus Quest was about more than just gamers who owned a different VR system. The Oculus Quest has been the focus of a lot of negative attention since the announcement that all new Oculus users need an active Facebook account to use their VR headset.
Facebook's new policy means that any new Oculus headset must be associated with a Facebook account in good standing to function. While customers who owned a previous Oculus model activated with an Oculus account can continue to use their headsets without a Facebook account until 2023, they will no longer receive full functionality. The announcement was in direct contrast with statements made by Oculus founder Palmer Luckey on Reddit when Facebook acquired the company in 2014. These events have left many Oculus owners, some of whom have supported the company since its initial Kickstarter debut in 2012, feeling betrayed.
Exclusivity issues aside, some gamers expressed concerns in the trailer's YouTube comments about the core gameplay of Star Wars: Tales from the Galaxy's Edge. IMLxLAB's first Star Wars game, Vader Immortal, was praised for some of its VR mechanics and atmosphere but criticized for being effectively a walking tour of the environment. With an unkillable player character, the challenge was minimal, making Vader Immortal more like a theme park ride than a legitimate game.
In an official interview, the developers mentioned a desire to make sure that this game is off the rails. However, frequent references to the physical Disney attraction Galaxy's Edge touched on yet another fan criticism. Some gamers have accused Star Wars: Tales from the Galaxy's Edge of being little more than an elaborate advertisement for the actual theme park. IMLxLAB's comments about a visit to the Galaxy's Edge attraction enhancing the game experience seem to have done little to discourage that.
Whatever your take on the situation, Star Wars: Tales from the Galaxy's Edge comes to Oculus Quest on Nov. 19.