Kojima Fans Just Got Great News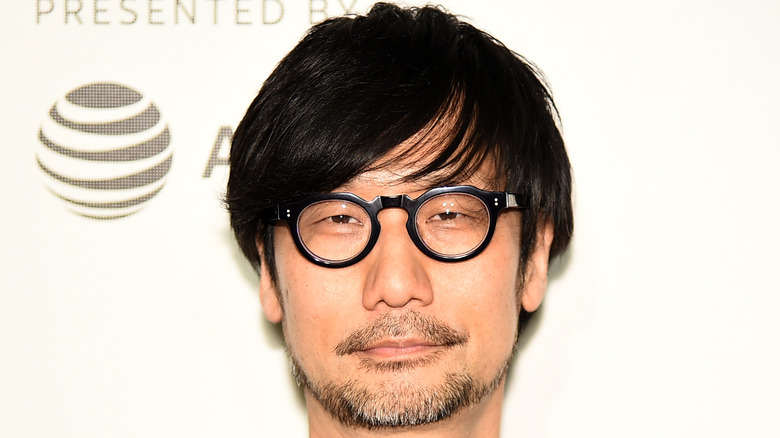 Theo Wargo/Getty Images
Hideo Kojima, the Japanese video game designer behind the lauded Metal Gear Solid series and Death Stranding, is officially gearing up for a new project.
Kojima Productions recently broke the big news via a tweet that confirmed its next game is currently in development. The studio is hoping to bring new staff on board as it's "looking to hire the best-in-class talent to work out of our Tokyo studio." As for the currently untitled game itself, not much is known about it at this point. However, a few clues regarding the project can be lifted from a series of tweets Kojima has sent out in the past. 
Advertisement
One of Kojima's tweets from November 2019 alludes to him wanting to produce a new horror game by watching a Taiwanese horror movie called The Eye for inspiration. In that same tweet, he calls back to the short yet unforgettable P.T. demo he worked on previously. At one point, Kojima was tapped to work on a new Silent Hill game called Silent Hills until it was unceremoniously canceled by his former publisher, Konami. After splitting up with the company, Kojima took much of his staff with him to create the development studio behind Death Stranding's creation.
Another clue that may have some ties to Kojima's newly announced title is a June 2020 tweet. In it, he talks about working alongside one of his fellow developers during the creation process for several elements of a new game. Kojima breaks down the discussions being conducted in order to create the game's "setting for each character, the background, the world, the color, the characteristics, the roles, the images, ideas, and keyword." The image attached to that curious tweet also lends some speculation to that new project possibly being a sequel to Death Stranding since it shows a physical model of the game's BB character.
Advertisement
Speaking of Death Stranding, Kojima highlighted his intentions of doing a sequel to it at some point. While chatting with Vulture, Kojima noted that he'd like to work with the game's main actor, Norman Reedus, once again for such an important undertaking. And if Kojima was to truly ever begin work on a second Death Stranding, he made it clear that he "would start from zero." With all that in mind, it sounds like a Death Stranding sequel would incorporate Reedus' likeness for the second time but pursue a different plotline instead of acting as a direct follow-up.
Perhaps Kojima Productions' desire to work on smaller-scale projects may be another hint at what the studio's next game may be. Back in January of this year, DualShockers summarized a few key points from an interview conducted by Japanese gaming publication Famitsu with Kojima and artist Yoji Shinkawa. The most interesting part of that article saw Kojima mentioning that his development studio planned to work on multiple game projects. While he indicated that one of those games would be of a larger scale, Kojima said that he'd also like to try and work on episodic and digital-only games at some point.
On the topic of big Kojima Productions projects, Kojima participated in an interview with Japanese site Livedoor News back in May that alluded to the cancellation of something major. Thanks to the interview being translated by Gematsu, Kojima stated the following about his studio's upcoming work: "I can't say anything since it's still in the planning stages, but we're doing various work behind the scenes. Just recently, a big project fell apart, so I'm a bit upset about that (laughs). Well, that sort of thing happens often in this industry."
Advertisement
Even though Kojima Productions has been set up as a gaming development studio, Kojima has expressed interest in pivoting its focus to another entertainment medium. During a BBC documentary about Death Stranding, he stated that he'd like to expand into making movies. Kojima made this desire clear by saying the following: "In the future, Kojima Productions will start making films. If you can do one thing well, then you can do everything well."
During the same documentary, Kojima spoke on the topic of streaming media: "I think within the next few years, gaming will move onto streaming. Movies, dramas, and games will all be streamed, and you'll enjoy them on your iPad or iPhone or a screen anytime, anywhere." Considering the growing focus on cloud gaming, Kojima's words certainly hold a lot of weight to them.
All eyes are on Kojima and his development studio now that fans know they're creating something brand new.