Why Fans Are In An Uproar Over This CoD: Blacks Ops - Cold War Mode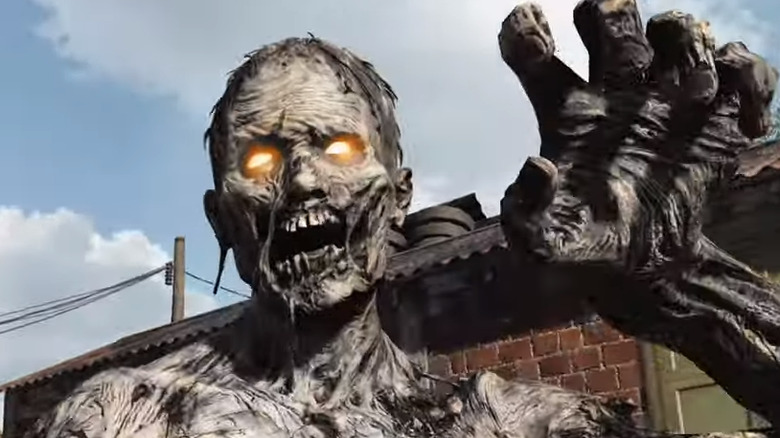 Activision
Activision, Raven Software, and Treyarch's upcoming Call of Duty release has been gathering plenty of steam since its grand debut. In recent months, fans have gotten their fair share of its multiplayer modes and made its beta the most-downloaded in the history of the series. Call of Duty: Black Ops – Cold War is going big with an explosive single-player campaign, a full-fledged competitive multiplayer suite, and the return of Black Ops' signature Zombies mode. 
Not all the reactions to Cold War's announcements have been positive, however. On Oct. 23, Activision revealed that a new take on Zombies is debuting in the game. But there's a catch for non-PlayStation players: that mode will only be available on PS4 and PS5 for a whole year.
A brand new trailer for the Zombie Onslaught mode was uploaded to the official PlayStation YouTube channel. The trailer provided a quick rundown of the new mode, which will place two players onto one of the game's many multiplayer maps and challenge them to fend off increasingly difficult waves of bloodthirsty zombies. For their efforts, those two players will earn exclusive rewards. The mode's timed PlayStation exclusivity is likely the latest result of Activision's continued exclusivity deal with Sony.
Judging by the like to dislike ratio seen underneath the trailer, it's clear that a lot of gamers aren't too pleased with the news. Comments such as: "Why be exclusive for a whole year?!?!? People will be playing the next CoD by then. Seems like such a simple mode to keep exclusive for a year" point to that displeased sentiment among some of Call of Duty's players.
There's even some ill will coming from PlayStation console owners, as demonstrated through responses like: "Although I'm a playstation user and hyped for this Im gonna feel bad for pc and xbox users." Some commenters seem to think that Xbox and PC players won't even care about the mode once they finally get it: "I highly doubt interest in this mode will last a year by the time it's on pc and Xbox."
This exclusive Zombies Onslaught mode situation is quite similar to the Special Ops Survival mode deal from 2019's Call of Duty: Modern Warfare. That same mode was also exclusive to PS4 for the duration of an entire year. Just like the reveal trailer for Zombies Onslaught, the Special Ops Survival mode trailer has an alarming amount of dislikes attached to it. There's also a large number of negative comments sitting underneath it.
In a defense of that exclusive mode announcement, Infinity Ward narrative director Taylor Kurosaki made the following statement via Twitter: "You can play Spec Ops and every new bit of content we drop, day one. The only timed exclusivity is Survival, which is a sliver of Spec Ops." Many responses to that tweet negatively judged Kurosaki's sentiment and the decision to cut off content off from non-PlayStation platforms for such an extensive duration.
Originally, Activision and Microsoft had an exclusivity deal for Call of Duty content. Eurogamer noted that Microsoft and Activision's multi-year agreement deal for the franchise began in 2010 and concluded in 2015. At E3 2015, it was announced that Activision would be working with Sony in a bid to produce timed exclusivity DLC and beta's for the PlayStation platform. Ever since then, annual Call of Duty releases have dropped exclusive DLC packs and multiplayer modes to PS3, PS4, and PS5 players first.
Call of Duty: Black Ops – Cold War has been tied to some negative feedback and bad news for a while now. Popular game streamer Dr Disrespect expressed some concern about the game's mechanical changes, China banned the game's teaser trailer due to a controversial piece of footage being included, and the next-gen upgrade path for the game caused plenty of confusion. But the latest Call of Duty release has also garnered some good responses from critics and players alike due to its inclusion of branching storyline paths and multiple endings within the campaign.
As it currently stands, Xbox and PC players will have to wait until November 2021 to get their hands on Call of Duty: Black Ops – Cold War's Zombies Onslaught mode.