Black Ops Cold War's Next-Gen Upgrade Is Confusing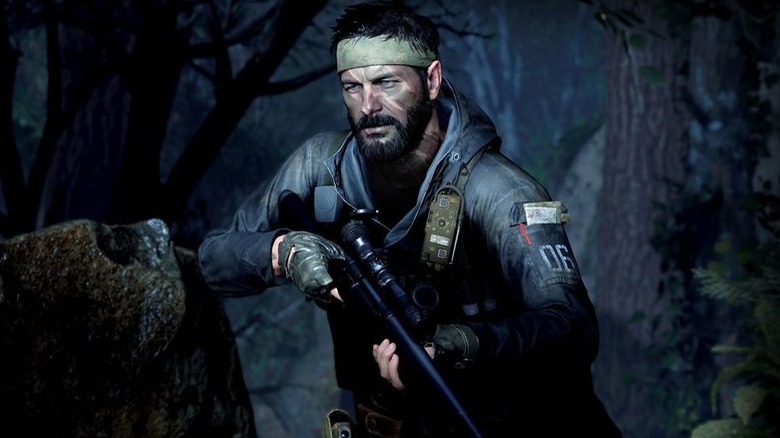 After months of speculation, Activision finally announced the existence of Call of Duty: Black Ops – Cold War. The game will be released this November, which means fans don't have to wait too long to dive into this latest historical action shooter. However, considering the fact that the game is being released so close to the debut of next-generation consoles, it's natural for fans to wonder about the upgrade path for Cold War. What kind of backwards compatibility or upgrade options will be available for the game? Well, the answer to that is considerably more complex than anyone may have expected, and it varies between consoles.
Luckily, most of these questions have been answered on an FAQ page posted by Activision. The good news is that the game will be released in both physical and digital editions for the PlayStation 4, PS5, Xbox One, and Xbox Series X. Upgrades will also be offered for current-gen versions of the game, presumably for a small fee attached to the PS5 edition. While Xbox has been trying to convince publishers to offer next-gen upgrades for free, PlayStation has been a little less committal, essentially allowing the publisher to decide on their end. 
Regardless of whether or not there's a price point attached, here's how it works: gamers who upgrade from PS4 can download the PS5 version of the game from the PlayStation Store, while Xbox One gamers can download the Series X edition from the Microsoft Store. Sounds simple, right? Well, there are even more options that muddy the waters a bit.  
According to Activision, physical current-gen copies of Cold War will actually be playable on newer consoles, but there's a catch. "Both current generation versions (PlayStation 4 and Xbox One) will be playable on their respective next-generation console via backwards compatibility by inserting the disc into the console," writes Activision. "But, the game will not include any of the next-generation features, such as higher framerate, hardware-based ray-tracing, faster load times, and more."
So basically, you don't really have to worry about buying multiple copies of Black Ops – Cold War, but you're going to miss out on a good bit of stuff. Also, if you end up purchasing the physical copy of Black Ops – Cold War for the PS4, you will not be able to play the upgraded version on the PS5 Digital Edition. Basically, you're kind of out of luck if you want to go from physical to digital media when you get a new console. It's presumed that this will be the case for any players who buy the still-unannounced all-digital next-gen Xbox console (likely called the Series S).
When it comes to the next-gen physical releases of the game, things get even more confusing between the two platforms. The Xbox Series X physical edition of Cold War will come with both the Series X and Xbox One versions of the game on disc. Meanwhile, the PS5 physical release will only come with the PS5 disc of the game. It seems like the differences between the two company's marketing strategies have resulted in a jumble of different packages for gamers to sort through.
So what is the best option at this point for Call of Duty fans who don't want to buy a game and then have it become obsolete almost immediately? Why, the Cross-Gen Bundle, of course. That's right, Activision has announced two digital bundle releases of Cold War that will allow players to make an upgrade upon the next-gen copy's release.
As explained by Activision, this bundle will be available for both Xbox and PlayStation customers. Players who purchase one of the bundles will receive an automatic digital download of Cold War upon its November 13 release. When the next-gen consoles launch, the upgraded version of the game will then download automatically. Again, though, the new consoles will probably launch around the same time as Black Ops – Cold War, so it's unclear if this is even the most cost-effective solution for anyone planning to get a PS5 or Series X on launch day. In other words, even the most hardcore fans may be better off waiting and getting the next-gen console before they spend the extra cash on purchasing one of these Cross-Gen Bundles.
Next-gen upgrades have been more or less confusing across the board. However, things have gotten extremely convoluted with Call of Duty: Black Ops – Cold War. It's unclear if this is just because of the uncertain window of time the game is being released. Hopefully this will not prove to be the norm as the next console generation gets underway.