Cyberpunk 2077 Developer Breaks Silence On Cut Content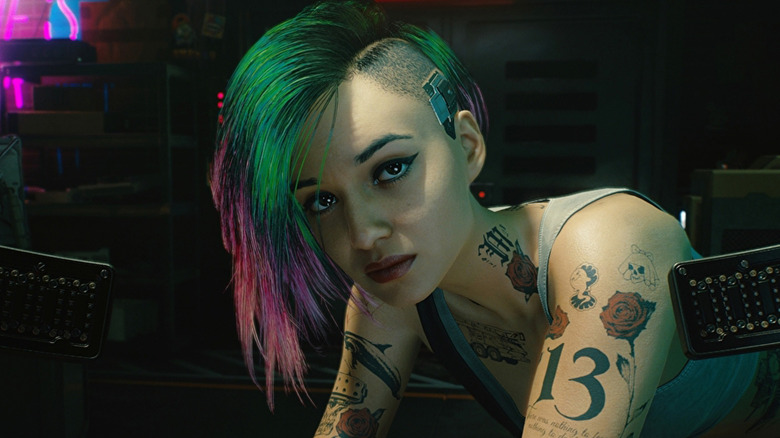 CD Projekt
Cyberpunk 2077's Dec. 10 launch has been a long time coming. CD Projekt Red announced the ambitious first-person shooter/role-playing game back in 2012 and dropped a teaser trailer for it the following year. Ever since then, CDPR has been hard at work putting the finishing touches on its highly anticipated project. While fans and critics alike have thrown heaps of praise upon the footage shown thus far, a lot of disappointment has come Cyberpunk 2077's way as well.
One of the main topics that has garnered some pushback is CD Projekt Red's decision to cut content from the game. In response to gamers lamenting that bit of news, Cyberpunk 2077's senior level designer Miles Tost released a statement on the game's Discord server that's now been released on its official forums. 
"Cutting features and scope is a very normal part of development," Tost said. "You can witness it so openly with our game, because we happily gave in to community wishes and showed you that 2018 demo. Think about it. The game—two years from release. Of course we iterate and change stuff and of course we also will have ideas that sound great on paper but then doesn't end up working out well in the game with all the other features."
Tost also provided some commentary in hopes of quelling fans' worries and provided some info on the game's runtime, adding, "If you worry about the amount of content on our game, please don't. We're notoriously bad at judging how long gametime is in our games (I remember we estimated players would max out W3 at 100h), so we try not to do that anymore."
As far as what types of content has been cut from the Cyberpunk 2077 thus far, it appears wall running — which was initially put on display during a 48-minute demonstration for the game – is one thing that'll no longer be present. During an interview with Game Reactor, level designer Max Pears gave some reasoning behind that feature's removal. "Ah, the wall running," Pears said. "That is something that we removed due to design reasons, but there's still going to be a lot of flexibility in how you move, that's for sure."
Another piece of cut content that's now missing from the game is vehicle customization. Miles Tost actually confirmed the game's inclusion of that mechanic during an interview with Game Fanatics at E3 2019. That feature was later confirmed as being cut by lead quest designer Pawel Sasko during an interview with IGN in June 2020.
"When it comes to the vehicles, as a player, you can own different vehicles but you do not really customize them ... you actually own different vehicles that have already been customized," Sasko said. "You can find different vehicles that have been already tuned-up but you do not do it yourself."
At one point, Cyberpunk 2077 was supposed to give players a four-legged mechanical companion called the Flathead. That helper bot was originally supposed to be acquired by V during a mission and be given direct commands afterwards, such as attacking enemies or hacking into devices. Footage of that mission has been released and its been noted that the Flathead will still appear at some point, but it will no longer be tied to the main character as a permanent ally.
In an interview with Gamestar, which was translated by a user on the game's official forums, comments from Tost seemed to confirm there won't be any subways or trains to ride in the game. On top of all that, cinematics have been taken out in favor of first-person storytelling. CD Projekt Red's global community lead Marcin Momot hopped on Twitter to speak on the game's focus on a first-person viewpoint, stating, "Achieving full immersion in an FPP game is extremely important and the decision made by the team to go 100% first person in @CyberpunkGame is something that will benefit it greatly from gameplay and story-telling perspectives."
Besides news of the game's long list of cut content, there's also been a number of notable delays. At one point, Cyberpunk 2077 was supposed to release on Sept. 17, 2020. That date was later switched to Nov. 19. Then, just today, the release was again pushed back to Dec. 10. And as far as good news for the game in concerned, Cyberpunk 2027 will give players a ton of missions to busy themselves with at launch. One example of those missions includes Street Stories, which are said to have major consequences attached to their outcomes.