Here's What The Future Holds For Call Of Duty: Warzone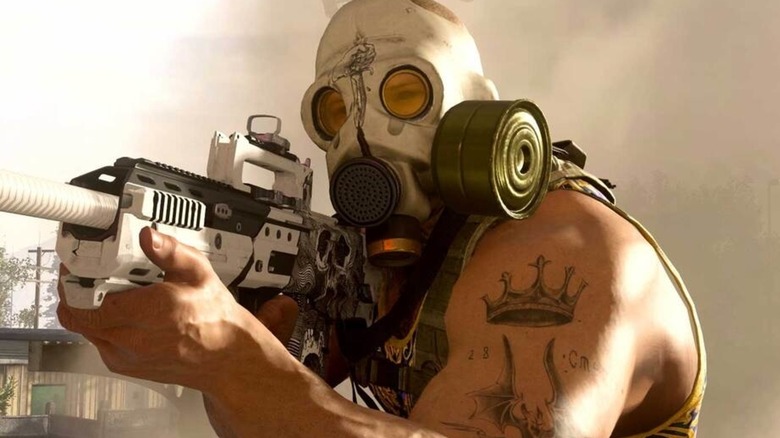 Activision
Since its launch earlier this year, Call of Duty: Warzone has become an immensely popular title. Sure, Infinity Ward has had to get pretty tough with cheaters, but fans are mostly very happy with the battle royale shooter. However, it seems that Call of Duty: Warzone is set to change in a big way with the release of the next game in the series, Call of Duty: Black Ops – Cold War.
Advertisement
Eurogamer reports that Activision C.O.O. Daniel Alegre explained the brand's future during an investor call earlier this week. According to Alegre, Call of Duty: Warzone will begin to integrate with Call of Duty: Black Ops – Cold War in December. It is unclear how much of Warzone's basic gameplay will change, but it sounds like Warzone players are about to have more options than ever before. Alegre teased that "substantial new content" is coming to Warzone, including all kinds of weapons, gear, and more inspired by Black Ops – Cold War.
On the same call, Activision president Rob Kostich clarified, "So for example all the awesome new Black Ops weapons and operators you unlock and your level one to 55 progression will be usable in Black Ops and in Warzone just like they work in Modern Warfare. Black Ops Battle Pass content and store content will also work across Black Ops and Warzone."
Advertisement
In addition, Kostich mentioned that gamers will still be able to use all of their Modern Warfare gear and Operators that they've unlocked through hours of play. None of that effort will be in vain, and the Cold War stuff will not be fully replacing the Modern Warfare content. In fact, Kostich revealed that Warzone players will be able to swap between their Black Ops – Cold War and Modern Warfare loadouts, depending on which one they'd prefer to use for a particular session. Kostich referred to this new feature as "just one example on how Warzone is going to expand and evolve over time."
Kotstich continued, "I think we did a great job on this for the community for everyone with Modern Warfare and we'll do the same with Black Ops ... And just like Modern Warfare, this game is going to get bigger and better and more fun as the year goes on."
From a marketing standpoint, it makes a lot of sense for Black Ops – Cold War and Warzone to be integrated in this way. Not only does it allow for Activision to put its newest mainline Call of Duty game front and center, but it also ties in nicely with the rest of Cold War's marketing campaign. After all, Easter eggs hidden in Warzone are what led to fans finally learning what the next Call of Duty game was going to be.
Advertisement
While the new additions to Warzone are certainly interesting, don't expect the battle royale shooter to get a complete visual overhaul to match. At least, not immediately. According to a report from Video Games Chronicle, Activision has plans to eventually release a Cold War-themed map for Warzone, but not for a little while. It's unclear what that map would entail, but it is not expected to drop until sometime in 2021. By that time, hopefully fans will have unlocked plenty of goodies in Cold War that can be used to great effect in the corresponding Warzone map.
Fans seem to be divided by this latest news. Most people are simply curious about how this integration might affect Warzone on a gameplay level. It seems that many fans are unhappy with the combat in the Black Ops – Cold War beta, with one person saying that they're afraid integration with Cold War could make Warzone "unplayable."
Perhaps most telling of all is how some streamers and esports pros have responded to the news. After Call of Duty news account CharlieINTEL tweeted an announcement regarding integration, FaZe Clan's NickMercs tweeted a gif of ESPN's Stephen A. Smith shaking his head in annoyance. Shortly afterwards, TimTheTatman tweeted a gif of Pam from The Office beginning to cry. Obviously, even though these guys play a lot of Warzone, they are less than enthusiastic about the integration of Cold War content.
Advertisement
CharlieINTEL also reiterated that the integration is set to officially begin sometime in December, whenever the first season of Black Ops – Cold War is officially underway. Hopefully Activision can quell some of the fans' fears before then. 
In the meantime, there are plenty of reasons for longtime fans to be excited for the release of Black Ops – Cold War. Set in the 1980s, Call of Duty: Black Ops – Cold War features the reappearance of several characters from the franchise's past. The villain in Black Ops – Cold War is a mysterious spy and saboteur codenamed Perseus. Returning characters Jason Hudson, Alex Mason, and Frank Woods are all on Perseus' trail in one way or another, taking direct orders from President Ronald Reagan to stop the spy by any means necessary. Regardless of how you feel about the upcoming integration, it should be interesting to see which story elements from Black Ops – Cold War slowly make their way into the world of Warzone. 
Call of Duty: Black Ops – Cold War launches Nov. 13, 2020.