A Major Silent Hill Bombshell May Be About To Drop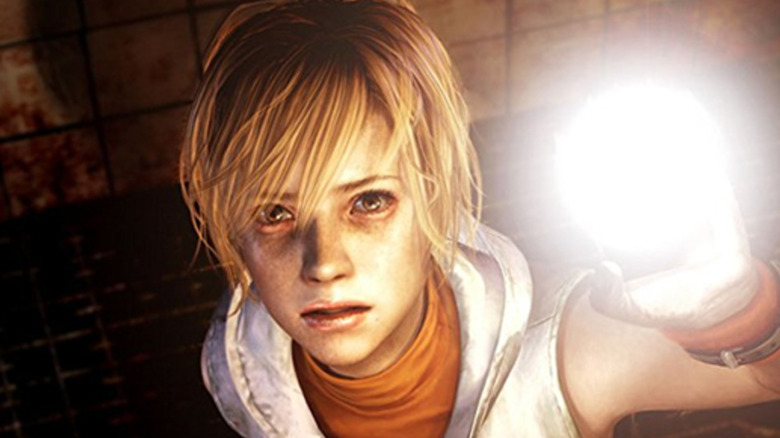 Konami
It seems like every few months, a new rumor pops up concerning the future of the Silent Hill franchise. While fans may have started to give up hope on another entry in the series, a few recent reports seem to indicate that Silent Hill isn't gone forever. In fact, much like the many monsters lurking around Silent Hill, a new game announcement may be right around the corner. 
Noted games info leaker and business analyst Robert Serrano recently tweeted that gamers should expect a major Silent Hill reveal in the very near future. According to Serrano, the next Silent Hill game should be announced during the Game Awards on Dec. 10, 2020. What's more, the game may be announced as a PlayStation 5 exclusive. Serrano did not share any further insight regarding the plot or characters of the next Silent Hill game. 
Neither Sony nor Konami have yet to respond to Serrano's tweet, but there have been reports from other sources that seem to corroborate his claim. Rely On Horror not only shared Serrano's prediction, but added in a few more interesting tidbits as well. According to Rely On Horror's October Rourke Keegan, "This news lines up with some information we received a little while back but chose not to report on." 
"I remain 100% confident that this game is happening, all of the evidence both officially from Konami and from other industry sources points directly to it," Keegan added. Keegan also posited that a reveal may have been planned well before this event, but could have been pushed back due to Covid-19 concerns. 
Another interesting thing to note is that Keegan specifically tells readers that this scoop did not come from AestheticGamer, a.k.a. Dusk Golem. In the past, AestheticGamer has reported multiple rumors concerning the next installment of the Silent Hill franchise.
At the beginning of the year, AestheticGamer reported that two new Silent Hill games may be in the works. One of the new games was supposedly "a soft-reboot of the franchise," while the other was "an episodic TellTale/Until Dawn-style game to go alongside the reboot." Unfortunately for fans, no such project has been officially revealed by Konami.
However, it was also AestheticGamer who reported that Sony and Konami were collaborating on a new Silent Hill game. According to AestheticGamer, this unorthodox deal would entail Sony developing a game with the dormant survival-horror license. Meanwhile, Konami would assist in covering production costs and would receive some of the game's profits. At the time, the rumor didn't make too much sense. However, this rumored partnership seems to tie into Robert Serrano's prediction of a PS5-exclusive Silent Hill reveal. 
Although none of AestheticGamer's previous Silent Hill predictions have come true, there are still a few reasons why these rumors shouldn't be completely dismissed. It should be noted that AestheticGamer has previously leaked correct information regarding another major survival-horror franchise, Resident Evil. Way back in January, AestheticGamer shared insane Resident Evil 8 rumors regarding a remote village and wolf-like creatures factoring heavily into the plot. These details would later turn out to be accurate when Resident Evil 8: Village was finally announced at PlayStation's Future of Gaming livestream event in June. AestheticGamer may have been right about the Silent Hill rumors, as well.
Meanwhile, ResetEra forum member KatharsisT also claims to have an inside scoop on the supposed impending announcement. When asked by other members of the board if there was any truth to Robert Serrano's reports, KatharsisT wrote, "I would expect something if I were you. I think it's better not to wait until 2021. I'm not saying we will have something during the Game Awards, just that I expect something." This would seem to imply that fans should keep an eye out for a Silent Hill-related announcement in November or December, even if it doesn't happen at the Game Awards.
As always, these rumors should be taken with a grain of salt. Until Konami or Sony make an official announcement, it's hard to know for sure if a PS5-exclusive Silent Hill game is definitely happening. However, it is interesting to see so many different sources agreeing on the same timeframe for an announcement.
The Silent Hill franchise is still hugely popular with fans, even though it hasn't seen a new entry since 2012's spin-off title, Silent Hill: Book of Memories. That game was an oddity in the franchise, focusing more on dungeon-crawling and solving puzzles than other entries had been. Silent Hill: Book of Memories was only released for the PlayStation Vita and received mixed reviews, leaving the series on something of a sour note. 
Hopefully the latest rumors turn out to be true, and fans will soon be able to return to the foggy streets of Silent Hill.