The Reason You Can't Get A PS5 At A Physical Store On Launch Day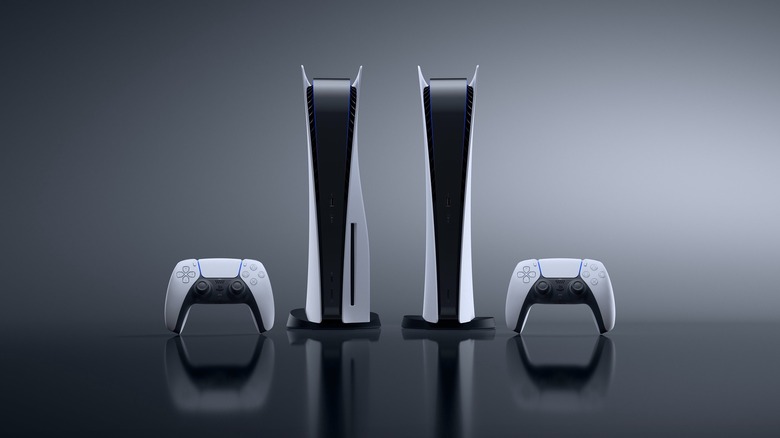 Sony
If you were planning to brave some long lines or even camp out to get a chance at nabbing a PlayStation 5 on launch day, you're going to have to rethink your plans. Sony has announced that you won't be able to physically buy its new console in stores on November 12 (or November 19, depending on which region you're in). Instead, you'll have to purchase a PS5 online. 
Advertisement
"In the interest of keeping our gamers, retailers, and staff safe amidst COVID-19, today we are confirming that all day-of launch sales will be conducted through the online stores of our retail partners." Sid Shuman, senior director of Sony Interactive Entertainment Content Communications, said in the PlayStation Blog. "Be safe, stay home, and place your order online." If you were one of the lucky few who snagged a next-generation PlayStation 5 preorder from a local retailer, you should still be able to pick your console up at the designated time. Contact the retailer to confirm details before launch day. 
Not able to reserve one yet? You may have trouble doing so between now and November 12. PlayStation 5 preorders rapidly sold out when they went live with no warning on September 16, and there have been few waves of availability since then. All major US retailers should have the PlayStation available for online ordering on November 12, so you're going to want to camp out at your computer instead of the store. Make sure you have your credit card handy so you can get through the ordering process as quickly as possible.
Advertisement
If you want to raise your chances of getting a PS5, make sure to stay up-to-date on your favorite retailer's plans. For example, Walmart has actually released times on November 12 when limited numbers of the console will be released for purchase: noon, 3 PM, 6 PM, and 9 PM ET. Best Buy is featuring the PlayStation 5 on its Black Friday flyer, so it may have some stock available for purchase on November 27 if you can't get one before then. 
Target confirmed in October through Twitter that the units would be available in-store but has since clarified that the PlayStation 5 will only be available if you order online for Order Pickup or Drive Up orders. If there are any left after launch, the retailer says, you can buy them in stores after launch day. Amazon and Sam's Club are other places where you might look if you're trying to score a system before the end of the year. 
There have been some concerns that the PlayStation 5 will remain scarce through 2020. In Japan, where preorders were determined through a lottery system, Sony announced that the next-gen console has completely sold out and won't even be available on launch day, although it ambiguously expects to "continue shipping PS5s in the future." Throughout the year, there have been reports that Sony boosted production to meet demand during a pandemic-fueled economy but then limited production of the new console systems as a result of chip production issues. Sony has denied such reports, and in a tweet (apologizing for the chaotic way preorders were handled), it promised availability of the PlayStation 5 throughout 2020. Fans will just have to see how well it lives up to its promise.
Advertisement
Sony's main competitor in next-generation gaming, Microsoft, is also seeing high demand for consoles that remain hard to get. It confirmed via tweet that more systems would be available on its launch day of Nov. 10 and suggested that those who want the Xbox Series X/S sign up to get updates from retailers. Microsoft hasn't made an announcement similar to Sony's (yet), but it's safe to say that finding the new Xboxes will also be an exercise in patience and determination — and will be safer to do online. 
Walmart has also announced that it will have a window for people to purchase the Xbox Series X, but only one at noon ET on Nov. 10. And the system will only be available online. Best Buy includes the Xbox Series X in its Black Friday trailer as well as the PlayStation 5, so you may be able to take advantage of that opportunity as well to buy.
The other console gamers may want to see more of this holiday season is the Nintendo Switch, which has been scarce for months as a result of high demand and production issues during the COVID-19 pandemic. While stock has seemed to be more available lately, this may change as people start shopping for the holiday season. Nintendo clearly expects more shortages, even though it has ramped up production recently: On October 31, GameSpot reported it had received a statement from the company, saying, "Nintendo Switch hardware is selling out at various retail locations in the U.S., but more systems are on the way. We apologize for any inconvenience."
Advertisement
Hopefully, everyone will get the consoles they want this holiday, whether new or old.