Here's The Cold Hard Truth About PS5 Pre-Orders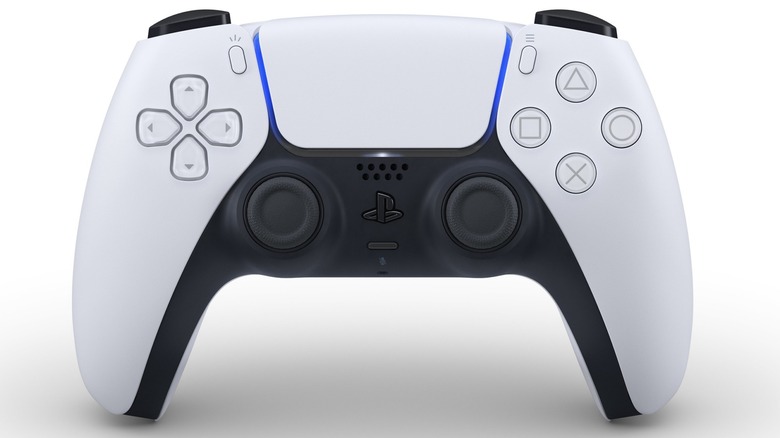 The price point and release date for the PlayStation 5 was announced last week, sending fans into a frenzy. Since then, gamers have been trying to snag one of the next-gen consoles for themselves, but that process has turned out to be a bigger headache than anyone could have anticipated. Now it seems that fans who managed to land one of the elusive PS5 pre-orders may still end up being disappointed on launch day.
The problem began when Sony announced that pre-orders had gone live for the PS5 with basically no heads up. This led to a mad dash as Sony diehards flooded retail websites and tried to lock one of those bad boys down. On most websites, the PlayStation 5 and PS5 Digital Edition were sold out within a matter of minutes. Even restocks at places like Walmart were only available for a tiny window of time. One of the first places to sell out was Amazon, which is now presenting a new issue for customers.
Wario64 on Twitter shared an email that Amazon customers have been receiving in regards to their PlayStation 5 pre-orders. According to Amazon, the "high demand" for the PlayStation 5 means that not every customer will receive their PS5 console on release day, regardless of when they placed their pre-order. Amazon added, "We'll make every effort to get the item to you as soon as possible once released."
This is not an isolated incident, either. Several other Amazon customers have confirmed on Twitter that they received the same email regarding their pre-orders. It seems that Amazon may have oversold its allocation of PlayStation 5 consoles. Hopefully these shortages will be taken care of before release date, because there will be plenty of unhappy customers otherwise. 
This development has put many Amazon and PlayStation customers on edge. Some people are constantly checking their Amazon accounts to make sure that the pre-order they placed isn't just going to disappear. Others are stressed out by the fact that Amazon doesn't charge customers until an item ships, which means that people don't even have a bank statement to show that they did indeed get their pre-order placed. On the other hand, at least a few customers are saying that they'd gladly accept a PS5 after release date; they just want to be able to order one again.
While this is definitely a bad sign for customers who placed their PS5 pre-orders through Amazon, it may also be indicative of a larger issue with the PlayStation 5.
There have been rumors for months that the PlayStation 5 would be limited at launch, mainly due to production delays and manufacturing costs. It was recently reported that Sony had cut the production of PS5 consoles by roughly 4 million units, which would definitely raise the demand for the system as well. This could be part of the reason why Amazon sold more units than it may have intended. On top of those production cuts, it has been reported that far fewer units of the PS5 Digital Edition have been made when compared to the standard PS5. In other words, customers who pre-ordered a PS5 Digital Edition console may have to wait even longer after launch to get their console than those who pre-ordered the regular PS5.
It remains to be seen if other retailers will actually be affected by this shortage like Amazon has, but it's very likely. The insane rush to grab a PlayStation 5 is unfortunate, especially since it could have been avoided. Back in July, fans were assured that Sony wouldn't spring pre-orders on them out of the blue, but that's essentially what happened last week. The pre-orders went live as soon as the price point and release date were announced, leaving people with basically no time to prepare. This in turn led to people (and plenty of bots) buying them out as quickly as possible.
While Amazon appears to be sending these emails as a kind of virtual "I.O.U.," many other customers aren't quite so lucky. Some people are receiving notifications from other retailers that their pre-orders have been outright cancelled and refunded. At least Amazon pre-orders will still be honored, even if they might take a long while to get into the customers' hands. 
If you missed out on pre-orders entirely, don't fret. There are still some options available to you, and there's always the chance that Sony could make a push to cover these shortages. Hopefully the customers who landed their pre-orders won't have to wait too long after release day to receive their coveted consoles.