Google Stadia Is Finally Getting This Feature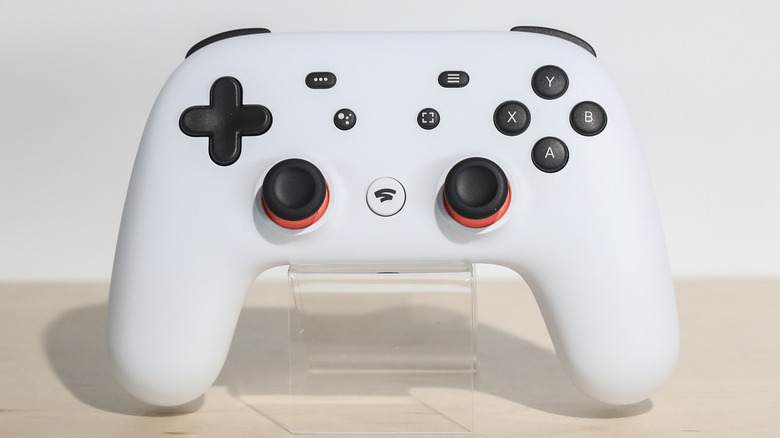 Drew Angerer/Getty Images
It's been a year since the cloud gaming subscription service Google Stadia went live, and while the launch had its share of successes and failures, a big day one problem was missing features. Google is finally making some of that right by delivering the ability to share games with others with Stadia family sharing just in time for Stadia's first anniversary.
Family sharing was one of the many previously announced features that Google failed to deliver when the service went live on November 19, 2019. Google seemed to have been aware that it had overpromised functionality for the cloud gaming platform when Stadia director of product Andrey Doronichev participated in a Reddit AMA a few months before the launch date.
In the AMA, Doronichev said that family sharing and other promised features like achievements, Bluetooth audio support, and modding planned for launch day would be missing. Furthermore, he stated that those options had only been part of a "vision announcement." The lack of features and slim library of games during the first few months led some Stadia subscribers to revolt after the service went live, but Google has been winning ground back throughout 2020.
Delivering on crucial functionality such as family sharing is an important way for Google Stadia to differentiate itself in the crowded cloud gaming market. Family sharing lets Google Stadia users utilize one digital license to share across up to six other accounts. In addition, only one account needs a Stadia Pro subscription to claim free premium games and share them with everyone on the group. The Stadia family sharing system is a part of the Google Play Family Library that enables Android users to share access to mobile apps and Google services such as YouTube Red.
One of the biggest questions about how the Stadia family share feature works is whether it will allow separate users to play the same game simultaneously for competitive or co-op games. The answer is yes and no, as GraceFromGoogle explained on the Stadia family sharing announcement on Reddit.
In the simplest sense, the answer is no. If you share a game on Stadia and are playing it, no one else can play it until you stop. However, if you and another Stadia user share the same game, then any two people on the family plan can play it against each other on any device.
While some have already reported Stadia family sharing support settings showing up in the app, the official Reddit announcement notes that it will take about a week to roll out the feature to all Stadia users.