The One Game Michael B. Jordan Wants Revived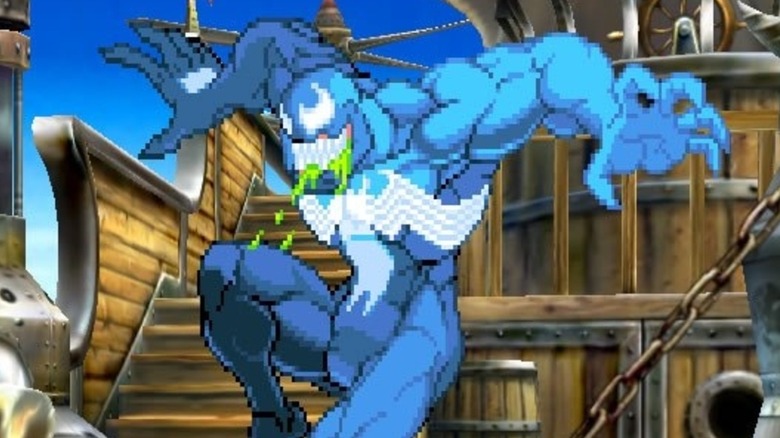 Capcom
Sony recently uploaded footage to their official PlayStation YouTube channel showing different celebrities enjoying their time with the newly-launched PlayStation 5. One of those celebs is actor Michael B. Jordan of Black Panther and Creed fame. In the video, Jordan reminisces over his childhood fandom of the PlayStation brand and even name drops Resident Evil as one of the games he loved playing with his sister. He then proceeds to hop into a game of Call of Duty: Black Ops – Cold War, which impresses him due to the game's graphical detail and intense gameplay. At another point in the video, Jordan spends some time with Marvel's Spider-Man: Miles Morales and noticeably loves every minute of it.
Following this shoot with Sony, Michael sent out an interesting Instagram post that referenced to one of the greatest crossover fighters of all time. "I been on [P]laystation from jump and the experience gets better and better," Jordan wrote. "Gameplay and graphics are [fire] ... We gotta figure out how to bring back Marvel vs. Capcom 2." Seeing as how he mentioned Capcom's classic 3v3 fighting game, it's pretty evident that Michael is a man of fine taste.
MVC2 is regarded as one of the greatest fighting games of all time and is still being played competitively within the FGC (Fighting Game Community) to this very day. The game's Metacritic score currently sits at a high rating of 90 and the User Score comes in at an 8.8. Fans and critics alike celebrated MVC2's 20th Anniversary back in February of this year. Additionally, Reddit users regularly post up threads asking for the game's revival via a remaster or backward compatibility access.
One of the more intriguing Reddit threads for the game appeared in r/GamingLeaksAndRumors. This poster drops a ton of info about a supposed re-release for Marvel vs. Capcom 2. The thread's poster notes that the "re-release will not be revealed this year, it's most likely going to be shadow-dropped sometime early next year." The rest of the poster's claims include a full Marvel vs. Capcom collection being developed, Ultimate Marvel vs. Capcom 3 coming to the Nintendo Switch, and all of Capcom's Marvel Vs. games getting ported to current- and next-gen consoles. It's important to note that all this info should definitely be taken with a grain of salt.
Still, Michael B. Jordan and a whole lot of other fighting game fans are certainly in agreement over one request, and that's the much-needed comeback for MVC2 on next-gen consoles.