Fans React To Hilarious Apex Legends Glitch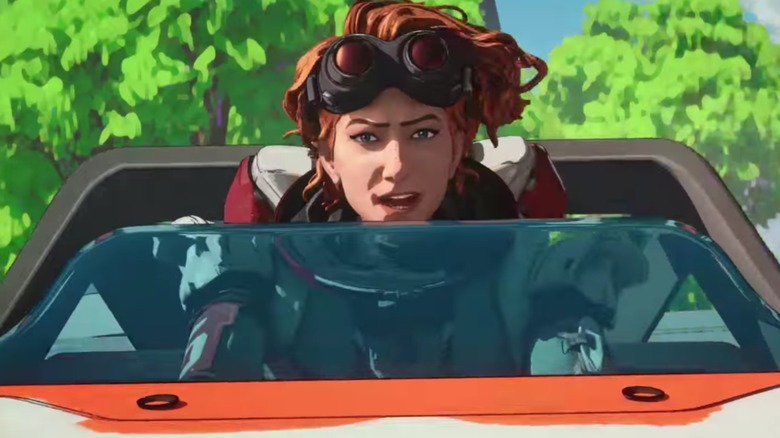 Electronic Arts
Respawn Entertainment launched Apex Legends Season 7: Ascension on Nov. 4, introducing players to the latest character: an astrophysicist and gravitational expert named Horizon. Fans have already begun exploring Horizon's gravity-based abilities, as well as her hometown, Olympus, the game's latest map. The scientist is certainly a powerhouse character, but as players are quickly discovering, she comes with a hilariously unusual glitch.
As reported by Game Rant, Reddit user fishmower shared a video of the glitch in the Apex Legends subreddit. The short clip showed Horizon descending from the dropship in a diving pose with her arms at her sides. Instead of landing on the map and giving the player full control of Horizon's abilities, though, she continued to hover above the ground in the same position — even after entering a building. Fishmower could control Horizon's directional movement and even make her stop moving, but she still floated above the ground.
Introducing Horizon's new passive ability... from
apexlegends
Thankfully, fans are not too upset about the glitch, as the comments are filled with jokes about Horizon's "passive ability." One Reddit user joked that Horizon is "not an astronaut for nothing." Another person wrote a humorous mock-up patch note: "To fix Horizon's excessive 'another soft landing' dialogue, we made it so she never lands."
Since Season 7 launched, players have encountered another interesting glitch when playing as Horizon, and this one seems to be more of an annoyance. Also in the Apex Legends subreddit, user Redshifted1 asked if anyone else noticed a repetitive noise when using Horizon's Black Hole ability, which creates a small black hole that pulls players in and hits them with a graviton blast. A few other posts also reported the same glitch.
Respawn Entertainment already found itself in hot water when it made some major changes to Apex Legends' Battle Pass alongside the release of Season 7. Players felt that progression through the Battle Pass was taking too long and earning XP was unusually difficult. One player unfortunately realized that the new system of earning Stars caused their progress to be erased completely. Thankfully, though, the developers were quick to issue an apology for the change, promising that they would remedy challenges to make them easier to complete.
Although these Horizon glitches are on a much smaller scale and may not be the team's top priority in terms of working on patches, Respawn has proven to be great at listening to player feedback. It wouldn't be surprising to see a new and improved Horizon very soon so fans can truly appreciate her awesome gravity-bending abilities.