The PS5 DualSense Feature You Didn't Know About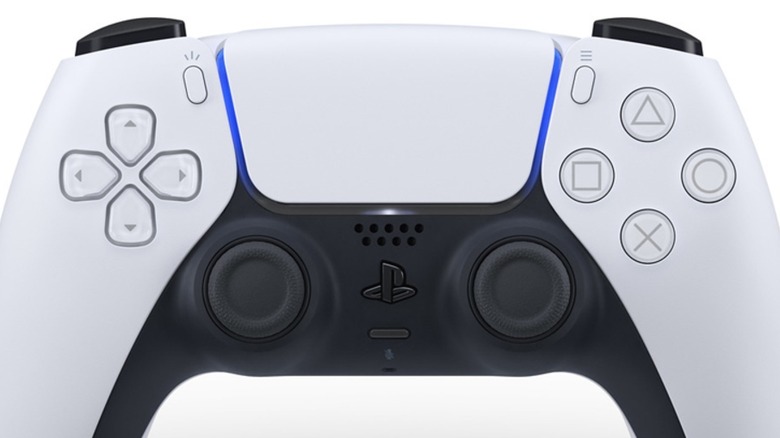 Sony
Even after the release of the PS5, the new console and its accessories are still providing plenty of pleasant surprises for gamers. Thanks to its adaptive triggers and haptic feedback capabilities, PlayStation's latest video game controller is able to engage with a few of the player's senses at once. Now gamers have discovered that the DualSense controller has another handy feature that nobody knew about before launch.
GameRant reports that the PlayStation 5 gamers can use the DualSense controller to turn off all game audio at the tap of a button. Located just below the PS button is a single line, or minus symbol. Pressing this button will mute the game currently being played. Gamers will know that this mute function has been engaged, because the button itself will flash an orange color. Simply pressing the button again will unmute the game in progress, allowing players to once again take in the immersive audio of the PS5.
This feature will come in clutch for anyone who has roommates or family members who like to try to have a conversation while they're playing a game. It may be hard to focus with the bombastic soundtrack of a game like Spider-Man: Miles Morales blasting in the background, but a quick button press will give players the brief silence that they need to focus on other tasks. Obviously just pressing the mute button on a remote control would function pretty much the same way. Still, the convenience of having this extra toggle right there on the DualSense controller may save gamers a few precious seconds of reaching for a separate device.
This latest feature has been called out by a few PS5 gamers, who have cited it as one of the reasons why they love the new DualSense controller. While singing the praises of the PS5, one fan remarked, "Controller is my favorite part. From the feel to the mic to the mute button to the adaptive triggers this thing is built different."
This is one of the many discoveries that people have made regarding the DualSense controller. Last month, players rediscovered a fun design Easter egg on the DualSense, which features tiny PlayStation controller symbols etched into it. It was also discovered that the PS5 console itself features a similar design element. Additionally, it has been revealed that the black front panel on the controller can be easily removed, which was a pleasant surprise for PS5 owners.