Gears 5 And WWE Fans Just Got Great News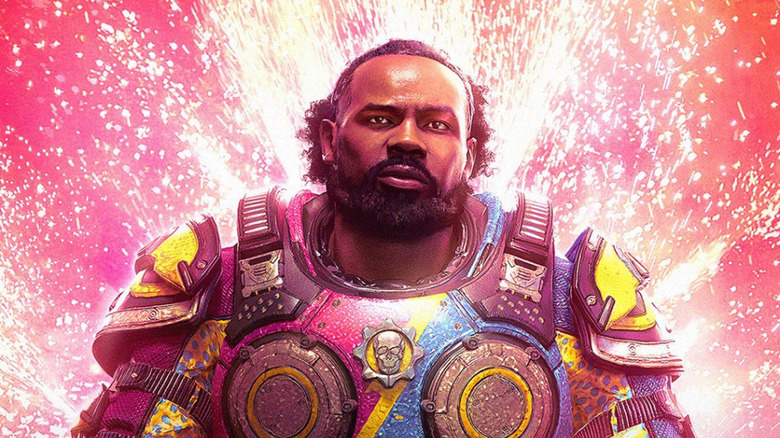 Xbox Game Studios
Gears 5 has done a bang-up job when it comes to featuring guest characters within its feverish shootouts.
So far, the Xbox console exclusive has added familiar faces from Terminator: Dark Fate and Halo: Reach. One of the more surprising guest appearances in the game comes from former WWE superstar Batista, who steps into the boots of Marcus Fenix during single-player and multiplayer sessions. Now Batista will be joined by three more popular wrestlers as Gears 5 adds even more guests to its expanding roster.
WWE superstar Xavier Woods (real name Austin Watson) made the announcement on Twitter that he, Kofi Kingston, and Big E will be coming to Gears 5 as playable characters. "After playing @GearsOfWar for years (& reading the books) I'm happy to announce that myself @TrueKofi & @WWEBigE somehow convinced them make us playable dlc characters in #Gears5 @Xbox," Woods tweeted out. "If you thought getting popped by gnashers got on your nerves wait until its us doing it."
The lovable WWE trio will get to run around Gears 5's maps adorned in pink and blue COG armor sets that pay homage to their colorful on-screen attire. And as expected, their likenesses in the game look as close to them as possible. On the small screen, The New Day trio are currently split across WWE's two main brands: Xavier Woods and Kofi Kingston compete on Raw, while Big E wrestles on SmackDown.
Woods is an avid gamer himself and even has his own YouTube gaming channel, which is called UpUpDownDown. The channel focuses on Woods and other WWE superstars, such as Tyler Breeze, Cesaro, Shelton Benjamin, and so on playing a host of games together and speaking on their love for the hobby as a whole.
Gears 5 is currently in the midst of adding even more content to the game besides The New Day trio as playable characters. Just recently, the game's Operation 5: Hollow Storm update included new characters, maps, weapon sets, PvP/PvE updates, and so much more. Those noteworthy updates have come just in time for Gears 5's transition over to the Xbox Series X|S. The next-gen version of The Coalition's third-person shooter features upgraded visuals and can push the fidelity of its multiplayer matches up to 120 FPS.
Later this year, even more content will be making its way to Gears 5 in the form of story DLC titled Hivebusters. Players will take control of the three characters featured prominently within the game's Escape mode: Jeremiah Keegan, Lahni Kaliso, and Leslie "Mac" Macallister. In an interview with IGN, Gears 5 principal lead producer Zoe Curnoe stated that this upcoming DLC will take three to four hours to complete.