GTA Fans Are Furious Over Rockstar's Latest Move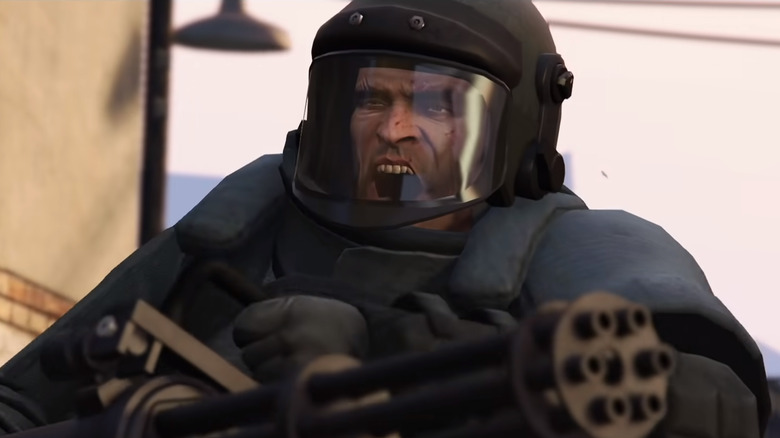 Rockstar Games
The Grand Theft Auto series is known for its expansive maps, and it looks like GTA Online's massive world is about to get even bigger.
— Rockstar Games (@RockstarGames) November 19, 2020
Rockstar just offered fans a preview of an upcoming map expansion through its official Twitter account. The clip briefly flashes multiple shots of the locale, which appears to have a tropical beach feel to it. Another teaser clip released by Rockstar Games has revealed that this new area is called Cayo Perico.
One might expect fan response to be positive, especially considering this is the first significant map expansion since GTA Online went live in 2013, according to Kotaku. But that doesn't seem to be the case. One user took the opportunity to air their grievances over Rockstar's severe punishment for players who exploited a glitch back in August. Another claimed that GTA 5 and GTA Online were "dead," and that it's time for Rockstar to put out a new Grand Theft Auto. A third comment read "Nah it's just another Useless uninspired GTA 5 DLC STOP MILKING THIS 2013 GAME." Clearly, this is not the kind of announcement many people were hoping for.
During the Future of Gaming livestream event back in June, the announcement that GTA 5 was coming to next-gen consoles caused a bit of an uproar. Though some might be happy to get an upgraded version of a beloved blockbuster video game, several gamers were expecting a new entry in the series instead. It would appear fans are still upset about this major disappointment, and a map expansion is not enough to ease the sting.
Following the Future of Gaming event, former Rockstar employee Darion Lowenstein offered some insight as to why gamers were getting an updated GTA 5 instead of GTA 6. Lowenstein explained the difficulty of developing launch titles for next-gen consoles, and that developers are generally unable to get their hands on the new hardware until as much as a year after the system has been released. With that said, the earliest fans can likely expect a new Grand Theft Auto is 2021.
Is a map expansion really enough to make up for the lack of a fresh GTA title? While the reason for its next-gen tardiness might be understandable, there's already a thriving mod community creating its own set of map expansions. When considering the other available maps courtesy of fan efforts, Rockstar's own update may feel a bit underwhelming by comparison.