We Finally Know Why We Got GTA 5 Instead Of GTA 6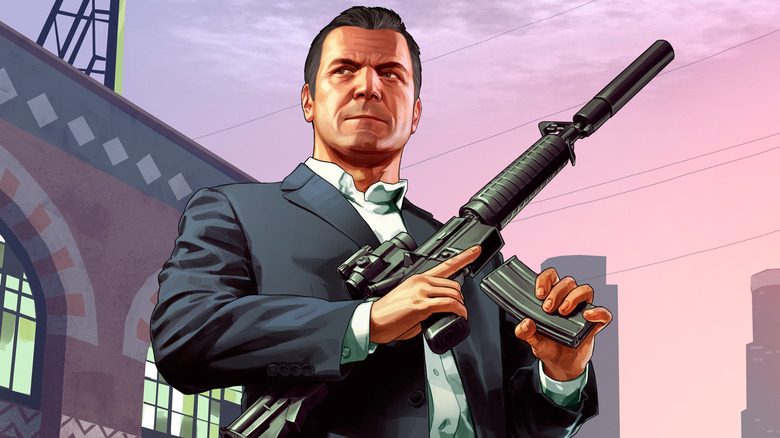 Sony's big Future of Gaming event brought exciting announcements for new games like Horizon: Forbidden West, Resident Evil 8: Village, and Spider-Man: Miles Morales. While these announcements were met with quite a bit of fanfare, people seemed far less enthused by the announcement of yet another port of Grand Theft Auto 5.
To be fair, it's pretty exciting that PlayStation 5 owners will get first dibs on the new GTA 5 and that the port is adding in new GTA Online content exclusive to next-gen consoles. However, the fact remains that Grand Theft Auto 5 will be about eight years old by the time the latest port of the game releases. This has led some fans to vent their frustrations online and demand answers as to why GTA 6 seems to still be so far away.
One of the people who was asked about this was Darion Lowenstein, formerly of Rockstar San Diego. Lowenstein has weighed in on the status of Grand Theft Auto 6 in the past. At one point, he told financial researchers at Jefferies Group that he didn't think the game would release any sooner than 2021.
According to Lowenstein, he has been receiving a ton of questions regarding Rockstar's latest announcements. Specifically, he says that people have been asking him why Rockstar would choose to release a new version of GTA 5 instead of the long-awaited GTA 6. Though he is no longer with the company, Lowenstein gave his two cents regarding the new GTA 5 port in a brief TikTok video.
"Honestly, from a development standpoint, there is a couple good reasons," said Lowenstein. "I've made a lot of games for new consoles. It's really hard. Tech is constantly changing, and it's really hard to make a AAA game at launch."
In text displayed on the screen, he also explained that developers are often a little bit behind when it comes to next-gen development. In Lowenstein's experience, most developers aren't allowed to even really work with next-gen hardware until "a year or less" before the rest of the world gets to play it.
In other words, it appears as though Lowenstein is echoing a lot of things that we already knew or suspected. As video games have become more complex over the years, Rockstar's development cycles for games have also gotten longer. It has been suggested that Grand Theft Auto 6 is still early in its production cycle, which has come as a disappointment for many fans. However, it does seem as though the developer always makes these games worth the wait.
After all, there was a full decade between the release of the first and second Red Dead Redemption entries. While that's an exceptionally long gap between releases, it also proved to be the amount of time that Rockstar needed to create the immersive experience that it wanted. Red Dead Redemption 2 also took full advantage of next-gen hardware and storage capabilities, things that couldn't have been accomplished on the PlayStation 3 of the Xbox 360. We will likely see a similar thing when Grand Theft Auto 6 finally arrives, as has been suggested by Lowenstein.
Secondly, Lowenstein says that Grand Theft Auto 5 is simply too much of a moneymaker for the dev to stop supporting it just yet. This is particularly important if GTA 6 is still in early production.
Lowenstein continued, "[Updating] an existing game, making it prettier, is way cheaper, way easier than an all-new one. So, if I had to guess, GTA 6 just isn't ready, and GTA 5 will provide a nice stream of income, and a fun Grand Theft Auto experience that everybody knows and loves, within a year of the PlayStation 5 launching. And then the Xbox Series X."
This is also pretty much in line with what we've heard regarding the lack of single-player story DLC in Grand Theft Auto 5. The game's biggest updates have all revolved around adding new content to Grand Theft Auto Online, and it's easy to see why. To put it bluntly, Grand Theft Auto Online is the moneymaker.
That's not a statement that's meant to undersell GTA 5's well-written (and insane) story campaign. However, it's clear from Grand Theft Auto 5's sales numbers why people keep coming back to the game. As new content is added, like the Diamond Resort and Casino, people will pick the game up and dive back in to check it out. It's likely the constant addition of new material that has led to GTA 5 being one of the best selling games in history.
In other words, we kind of expected this to be the case with Rockstar's decision. However, it's significantly more convincing to hear these theories from someone with firsthand experience of how the developer works. Hopefully Lowenstein is right on the money, and this new port is simply meant to tide us over for a little bit until the main course that is Grand Theft Auto 6 arrives.