The Internet Seems Determined To Spoil Cyberpunk 2077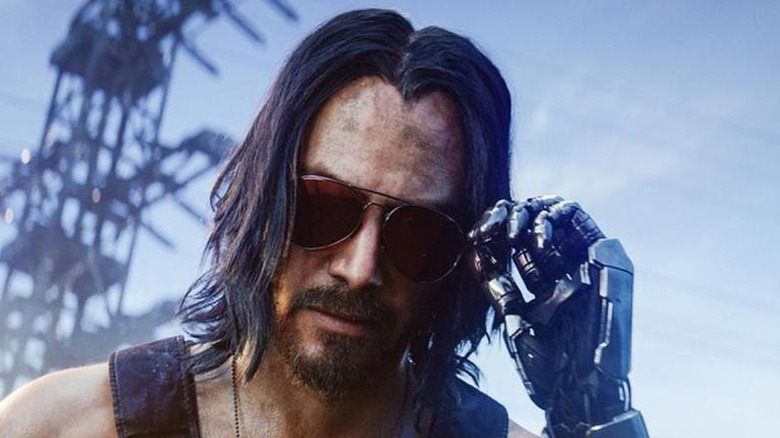 CD Projekt Red
Thanks to the Internet, it's almost impossible for a major game release to drop without any plot details being spoiled first. Gameplay footage from Cyberpunk 2077 has surfaced online, weeks before its scheduled Dec. 10 release date.
According to users on the ResetEra internet forum, a streamer has posted around 20 minutes of gameplay footage from Cyberpunk 2077's opening sequence. Publisher CD Projekt Red and Warner Bros. have taken down the original post, but several mirrors of it have since popped up. You can view the footage here, if you're so inclined.
The clip comes from the unpatched PS4 version of the game and shows the beginning of the "Nomad" life path — one of three available life paths, with the other two being "Street Kid" and "Corpo" — as well as the character creation screen. The player explores the opening garage area, meets a local sheriff, and tests out one of the game's vehicles. The footage doesn't appear to include any major plot details or spoil any of Cyberpunk 2077's hundreds of missions.
Pre-release leaks are relatively common for AAA games, even if developers would prefer otherwise. Earlier this year, leakers spoiled nearly the entire plot of The Last of Us Part 2. The Cyberpunk 2077 leak doesn't reveal nearly as much, but there's still plenty of time for more spoilers.
Just yesterday, Reddit user u/Justgonnasendit90, who claimed to be an Amazon employee, posted photos of the game's box. According to the box, a physical copy of the game includes two Blu-ray disks, a game map, access to digital content, a "world compendium," and stickers and postcards. Another sticker on the box confirmed that PS4 players will be able to upgrade to the PS5 version at no extra cost.
It's understandable why prospective players are so eager to get a taste of Cyberpunk 2077. Fans of the original tabletop game have been waiting 30 years for a video game adaptation. CD Projekt Red first announced the title way back in 2012. After the massive success of CD Projekt Red's The Witcher 3, Cyberpunk fans had high hopes for the dystopian first-person shooter. But CD Projekt Red has already delayed Cyberpunk 2077 four times, and was rumored to be pushing the release to 2021, leaving many people frustrated.
Even if a massive leak does happen, it probably won't hurt the game or CD Projekt Red much. In 2014, a hacker stole dozens of design documents for The Witcher 3 from a CD Projekt Red employee's Google Drive, then posted them to 4chan and Reddit. The Witcher 3 was still one of the most successful games of all time, and it helped CD Projekt Red become the second-biggest European studio behind Ubisoft. 
But since many physical copies of the game have already shipped, more leaks seem like a matter of "when," not "if." If you want to enjoy Cyberpunk 2077 completely fresh, be careful when you go online over the next couple weeks. Otherwise you might need a memory wipe.