Why The PS5 Was Named One Of 2020's Best Inventions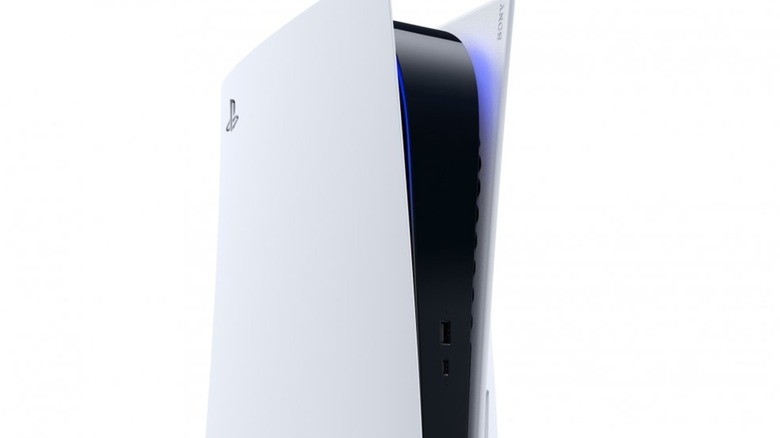 Sony
The gaming industry has been recognized in a big way, and by a major mainstream publication. Time just revealed its top 100 inventions of 2020 and the PlayStation 5 was given a slot in the entertainment category.
Every year, Time releases a list of the top leading inventions that make the world a better place. It could be through education, entertainment, fitness, or even medical breakthroughs — so long as the outcome it creates is a positive one. The PlayStation 5 has been turning the heads of gamers everywhere since it was first unveiled during Sony's Future of Gaming event back in July 2020.
According to Time, "Sony's new gaming console is all about small advancements that combine to create a revolutionary experience." These small advancements come in various forms of improved technology. The processor, the new DualSense controller, and the solid-state drive improve the console to feel comparable to a gaming PC. It is a completely new gaming experience — shorter load times and smoother game handling. It is no wonder that the PlayStation 5 landed on their list.
The PlayStation 5 was released with an eight-core AMD Zen 2 CPU, clocking in at a 3.5GHz speed. The PlayStation 4 Pro utilized an AMD "Jaguar" 8-core CPU. The two processors are almost non-comparable. The PlayStation 5 processor is approximately ten times faster than its predecessor. The solid-state drive in the PlayStation 5 is far superior to the aging technology of the hard disk drive of the PlayStation 4 — load times for the PlayStation 5 will be minimal. According to TechRadar, one of the biggest advantages to the PlayStation 5 is the addition of ray tracing, which allows the system to realistically render both lights and shadows.
Time also raved about the new wireless DualSense controller, which is one of the console's most critically-acclaimed new features. The controller was designed to create further a stronger immersive gaming experience. Sony added haptic feedback, which gives players numerous different powerful vibrations and sensations that are meant to blur the boundary between life and game.
The console was chosen by Time, along with the Xbox Series S, which is more budget-friendly than the Xbox Series X. Also on the list was Nintendo's Animal Crossing: New Horizons. The game has been flying off the shelves and providing Nintendo gamers with much relief during the heavy restrictions of the COVID-19 pandemic. The PlayStation 5 sits pretty and in good company.