How To Watch Fortnite's Season 4 Finale Galactus Event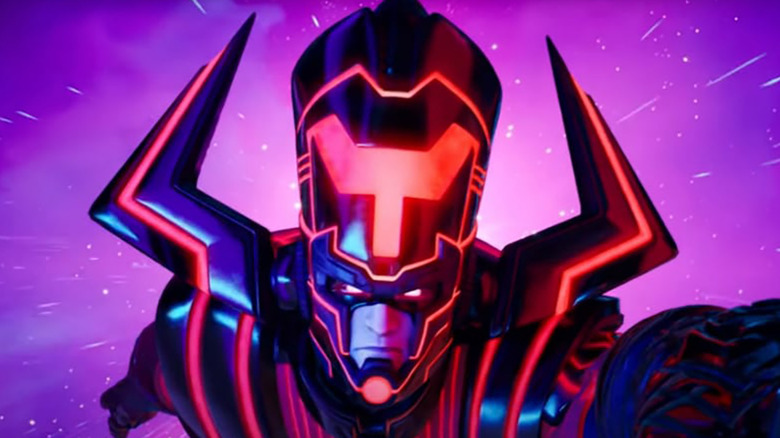 Marvel
Fortnite's Chapter 2 Season 4 finale event kicks off on Tuesday, Dec. 1, at 4 p.m. ET with the long-awaited arrival of Galactus, Destroyer of Worlds. Fans can tune in during the event to see the Marvel villain devour the world and mark the end of this lengthy season. Most of the event's happenings are being kept under wraps, but Epic Games recommended in a blog post that players should download the latest update by 3 p.m. and log in to Fortnite immediately afterward to secure a spot in the event. A Galactus playlist will appear in-game 30 minutes before the event begins.
As Polygon noted, previous Fortnite events have reached capacity before they even began, so try to get in as early as you can to see Galactus (probably) eat the world. Those who can't get into the event will be able to watch streams from content creators. While attending the event, players can also live video chat via Houseparty. "The fate of all Reality lies in the balance," Epic stated on the blog.
The highly anticipated Galactus event is the culmination of a very long season in Fortnite. Chapter 2 Season 4 began back in August and dives into the Marvel universe as players pick up super powers from popular characters like Doctor Doom and Groot, as well as weapons and outfits based on all things Marvel. All throughout the Nexus War, Galactus has come closer and closer to the island, threatening to destroy it. It's unclear exactly what Galactus will do once he arrives, but Epic has ensured that it will be one of the biggest events in Fortnite. Epic previously teased images of the Battle Bus on Twitter, prompting fans to theorize that the Battle Bus will be used as a defense of some sort, but this was not confirmed.
Following the event, the countdown begins for the release of Season 5 on Dec. 2. There's no official word on what Season 5 will entail, but there are typically hints during the finale, as Comic Book noted. Epic Games did previously accidentally confirm a secret skin with a Mandalorian theme, but it's unclear if the whole season will be Star Wars-themed. Additionally, a brand-new subscription service called Fortnite Crew has already been confirmed to roll out in Season 5. The service will include access to exclusive Outfit Bundles, each season's Battle Pass, and 1,000 V-Bucks.
Epic is making a ton of changes to Fortnite with the new subscription service and with the implementation of the Houseparty app. Plus, another huge Fortnite announcement is slated to come during The Game Awards 2020 on Dec. 10. Big things are happening for the massive multiplayer title, and the Galactus event might be the perfect way to mark the beginning of a new era.