What Critics Are Saying About Cyberpunk 2077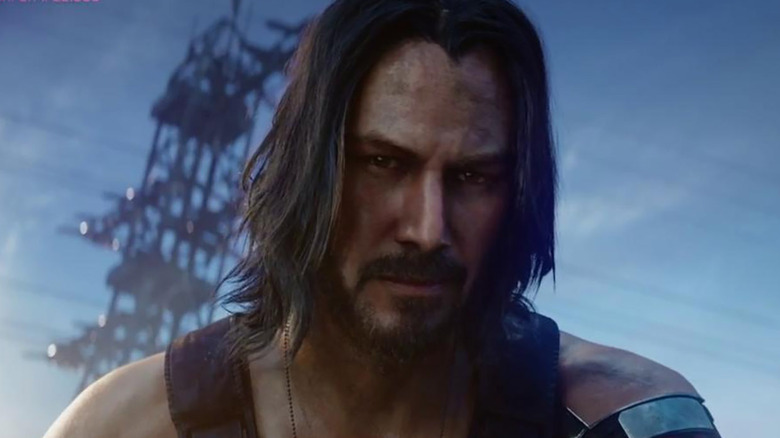 CD Projekt Red
CD Projekt Red's Cyberpunk 2077 is just days away from its Dec. 10 official release following three major delays earlier this year and a rumored fourth delay back in November. It's been a long journey to get to this point, but soon, fans will take on the first-person role of a mercenary outlaw known as V in the Cyberpunk universe's Night City.
Advertisement
According to the official Cyberpunk 2077 site, V is on the hunt for an implant that will be the "key to immortality." Along the way, V acquires skills in hacking, machinery, and combat alongside co-protagonist Johnny Silverhand, played by Keanu Reeves. Critics have already had their own glimpses at the future — here's what they have to say about Cyberpunk 2077.
Cyberpunk 2077's campaign is a bit on the shorter side, but it doesn't fall short in depth, with GamesRadar+'s Sam Loveridge calling it "the most immersive game world to date." Additionally, it seems that the scenes in Cyberpunk 2077 deserve to be enjoyed at a slow place. "Cyberpunk 2077's world is such an aesthetic joy that it feels disrespectful to fast travel or skip drives in Night City," Loveridge wrote. Players should explore anything and everything possible in this open world adventure, including Side Jobs and Gigs on top of Main Jobs. Otherwise, Cyberpunk 2077's campaign will offer 15 to 20 hours of gameplay, which isn't nearly long enough to do it full justice.
Advertisement
Meanwhile, IGN's Tom Marks praised Cyberpunk 2077's "staggering amount of choice" in character design, as well as how players confront enemies and approach quests. However, Marks did notice a few bugs on PC that have the potential to pull players out of Cyberpunk 2077's otherwise very immersive experience. For example, characters glitched into the wrong poses during serious conversations, and later, two dialogues ended up overlapping. The camera tended to get stuck in a bobbing motion as if the player were running. According to Marks, a Day One patch is slated to be released, so these issues may be fixed soon after Cyberpunk 2077 officially hits the market.
Perhaps offering some of Cyberpunk 2077's highest praises was Windows Central, which said the RP was a "contender for best game ever made" that "won't be bested for several years." Reviewer Jez Corden called Cyberpunk 2077 "an absolutely jaw-dropping game visually," with a story that immediately throws players into Night City's detailed history.
When CDPR revealed in October that it would be cutting a ton of content from Cyberpunk 2077, fans feared that the cuts would have hugely negative effects on the gameplay experience. If these rave reviews are any indication, wall-running and vehicle customization will hardly be missed amid the pure beauty that Cyberpunk 2077 has to offer. 
Advertisement
Cyberpunk 2077 will be available on Microsoft Windows, PlayStation 4, Google Stadia, and Xbox One on Dec. 10. Xbox Series X|S and PlayStation 5 versions are currently in development.