Cyberpunk 2077 On Xbox Has The Edge Over PS5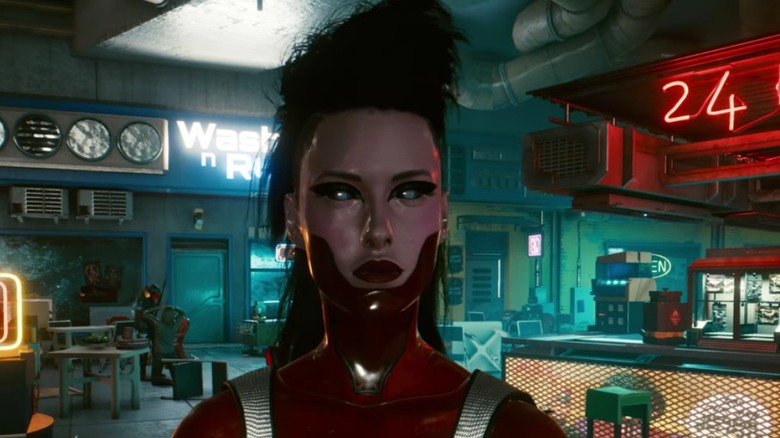 CD Projekt Red
In 2013, CD Projekt Red teased Cyberpunk 2077. Nearly a decade and one newborn console generation later, the game will finally release. Will it be worth the wait? Most critics seem to think so. While the game might be short compared to CD Projekt Red's previous outing, The Witcher 3: Wild Hunt, it reportedly offers a ton of replayability that will keep players engrossed for hours. Unfortunately, not all experiences may be created equal, especially if you bought one of the console versions.
The site Video Games Chronicle (VGC) was one of many outlets to receive early review copies of Cyberpunk 2077, specifically the Xbox One and PlayStation 4 versions. Dedicated Xbox Series X and PlayStation 5 ports aren't scheduled until 2021, but the site still got to play the game on those consoles through backwards compatibility. While taking the different versions for a spin, VGC discovered that the Xbox One port includes a few performance tweaks that are absent from the PS4 rendition.
Apparently, the Xbox One copy of Cyberpunk 2077 lets players pick their performance poison: higher resolution or smoother framerates. You can't have both on the Xbox One copy, but that's still more than can be said for the PS4 version, which, according to VGC, has no option to sacrifice framerates to play at higher resolution or vice versa. This lack of PS4 performance options seems almost out of place since once the PS4 Pro hit store shelves, Sony titles usually shipped with the option to prioritize stable framerates or graphical fidelity. Cyberpunk 2077 on the PS5 is nothing to sneeze at since the game defaults to 60 FPS, but that's it.
Cyberpunk 2077 isn't the only game suffering from this apparent oversight, though. VGC pointed out that games such as Star Wars: Squadrons and Rocket League also received performance options on the Xbox Series X, while their PS5 ports only have vanilla options. The outlet postulated that the issue lies hard-coded in the console itself and how it tackles backwards compatibility. After all, a representative of Rocket League developer Psyonix once told Eurogamer that it's easier to turn up resolution on an Xbox Series X|S version thanks to a patch, but doing so on the PS5 would require "a full native port" due to its different backwards compatibility software. Unlike Cyberpunk 2077's potentially seizure-inducing lights, you can't pin the performance blame on CD Projekt RED.
While the true PS5 port of Cyberpunk 2077 will probably include performance options, anyone who wants to buy the game early might want to opt for the Xbox version. Or, if you have a PC that can handle Cyberpunk 2077, buy the game through Steam or GOG instead.