Fortnite May Add Even More NPC Services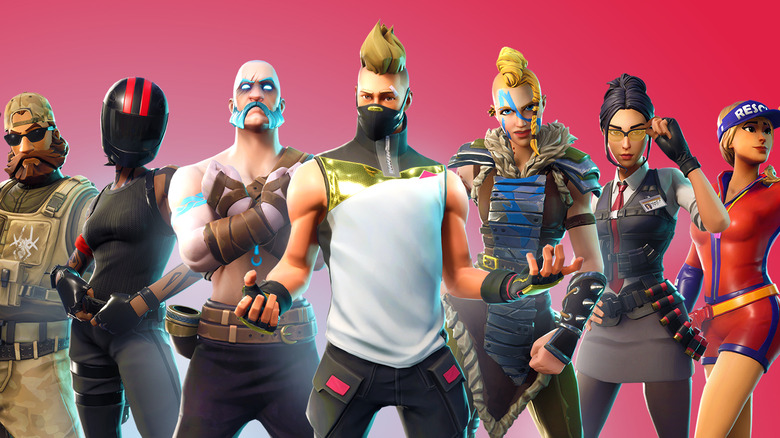 Epic Games
Chapter 2 – Season 5 (Zero Point) of Fortnite has brought plenty of cool features along with it for its massive community of players.
The addition of NPCs has been one of the more interesting gameplay changes introduced thus far. Currently, a collection of 40 NPCs are scattered across Fortnite's massive map and offer players special bounties to complete. Upon completion of those additional tasks, players are rewarded with Gold Bars that can be exchanged for extra rare items and resources. Some of those NPCs, such as the Mandalorian himself, present players with a battle challenge when confronted. It's also possible to hire them for their services if you'd rather befriend them instead of fighting them.
According to a tweet from noted Fortnite leaker HYPEX, those newly installed NPCs may be getting updated to offer players even more useful services in the future. "We might get more NPC services where they buy loot from you or spawn 1 supply drop for 600 gold!" the Twitter user stated. If this leak turns out to be true, then players can look forward to more opportunities to rack up more currency and supplies during each match.
Fortnite's NPC responsibilities look to be expanding along with the notable selection of recognizable skins players now have access to. Epic Games and Marvel's crossover has led to even more cool costumes making their way into the game. The latest skins are attached to the new Marvel Royalty and Warriors Pack, which comes with Captain Marvel, Black Panther, and Taskmaster. Alongside those new skins comes a set of new Wakanda Forever Challenges that can only be completed from December 21 to January 12. Once those challenges have been beaten, players will receive a free Wakandan Salute Emote for their efforts.
That's not the only new batch of content that's recently been added to Fortnite for the 2020 holiday season. From December 18 right up until January 5, players can take on Snowmando's Quests to earn themselves new skins during the Operation Snowdown event. The holiday-themed rewards available during this special event include the Shield Surprise Back Bling and Frosty Globes Pickaxe. On top of all that, players can participate in LTMs (Limited Time Modes) such as Air Royale and Shockwave.
The Battle Pass for Fortnite's Chapter 2 – Season 5 is definitely worth making your way through, thanks to the new skins they gift you with. The skins tied to the latest Battle Pass are the Mandalorian, Reese, Mancake, Mave, Kondor, Lexa, and Menace.