Only Fall Guys Could Turn Doom Costumes Into Adorable Skins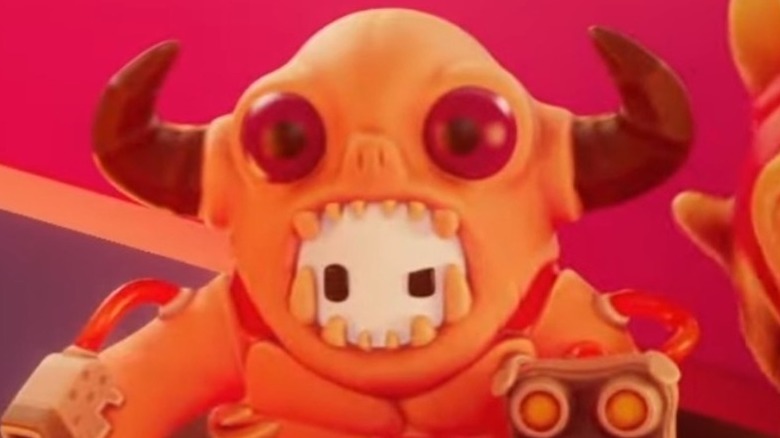 Devolver Digital/YouTube
A demon takeover is plaguing Fall Guys, and the player can be a part of it. As a part of its latest collaboration, Mediatonic — the developers behind the successful and frantic multiplayer game — have debuted a trailer showing off a set of new costumes inspired by the Doom franchise that players can obtain in the game. Players will be able to rip and tear their way through the competition on Jan. 12, when the skins become available.
Advertisement
The trailer for the new Doom costumes was uploaded onto YouTube earlier today. The footage showed off three skins, two of which are based on the demons in Doom, and one larger costume that bears a resemblance to the Doom Slayer's armor. While the hordes of monsters the player faces in Doom can be pretty terrifying, Fall Guys managed to take these scary creatures and turn them into incredibly adorable skins.
The collaboration between the two franchises was first hinted in Dec. 2020 via Twitter. On Jan. 4, the Fall Guys Twitter account dropped another teaser about the collaboration, tweeting, "Grab and fall, until it's done," a play on the iconic "rip and tear" line from Doom. A day later, the account announced that it was going to collaborate with Bethesda, the company behind the Doom franchise. The tweet said that players would get a first look at the new costumes in an upcoming livestream. However, it looks like plans fell through and the team had to reschedule the stream. At the very least, Mediatonic was able to leak one of the skins in the tweet.
Advertisement
This latest collaboration with the Doom series is one of many crossovers Fall Guys has done in the past. In just a few short months since its debut in August 2020, Fall Guys has been mashed up with franchises like Sonic the Hedgehog, Team Fortress, Portal, My Friend Pedro and Gris. Other companies outside of gaming such as McDonald's and KFC have also tried to get in on the Fall Guy trend, but Mediatonic has kept most of its collaborative projects within the gaming industry. 
It's unknown if the recent Doom costumes will be the only things from the franchise that will make its way into Fall Guys. The trailer did show off a hellish landscape, but Mediatonic hasn't announced any plans for a new Doom-themed obstacle courses. In the meantime, players who are interested in owning the costumes will have to gather crowns to trade in for the new gear when it releases on Jan. 12.