The Major Way Hitman 3 Sets Itself Apart From Its Predecessors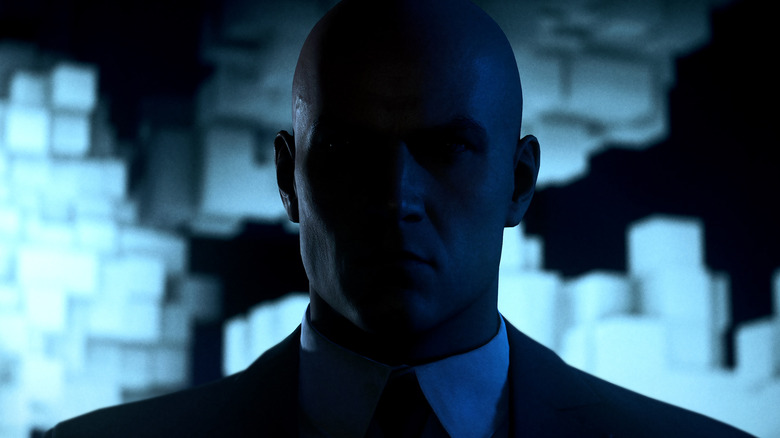 IO Interactive
Hitman 3 is still days away from its release, but IO Interactive's newest stealth game is already creating a buzz. The developer went deeper into a narrative than it's ever gone before, giving Agent 47 and supporting characters a riveting plot that keeps players invested all the way through. In other words, fans will come to Hitman 3 for the action, but they're going to want to stay for the story.
In a gameplay preview, Polygon's Samit Sarkar revealed that one of Hitman 3's "most surprising" elements is just how far IO Interactive went to develop the series' story and every one of its characters. Unlike Hitman and Hitman 2, which featured smaller sprinkles of narrative elements, the final installment of the World of Assassination trilogy fully dives into its "worldwide conspiracy tale." Hitman 3 picks up where Hitman 2 left off — with Agent 47 and company in search of the members of the secret faction known as Providence. Sarkar noted that after completing only two missions into Hitman 3 (there are six total), he was already hooked onto major plot twists.
Just as the series did with previous Hitman titles, this next installment takes Agent 47 to breathtaking locations in Dubai, England, and more. IO Interactive has once again pulled out all the stops with level design. What has evolved in Hitman 3, though, is the addition of some new level features. For example, as Sarkar noted, most locations have ladders and doors with unpickable locks that players can only access after a level is complete. These areas can then be used as shortcuts in mission replay, which will allow players to raise their mastery levels.
One particularly noteworthy mission in Hitman 3 is the second level, which is set in an English country mansion known as Thornbridge Manor. As Washington Post's Gene Park wrote on Twitter, "It's a Knives Out-style murder mystery" where he "spent hours trying to solve someone else's murder mess," rather than carrying out an assassination. The unique crime-solving elements of this mission alone seem to make Hitman 3 worth the purchase.
Hitman 3 is slated to arrive on Google Stadia, PlayStation 4, PlayStation 5, PC, Xbox Series X, and Xbox One on Jan. 20, 2021. A Nintendo Switch version is also on the way, but there is no release date yet. As fans enjoy Hitman 3, they can also look forward to another very big project in development at IO Interactive: a new James Bond title, codenamed Project 007.