Rust May Finally Be Headed To Consoles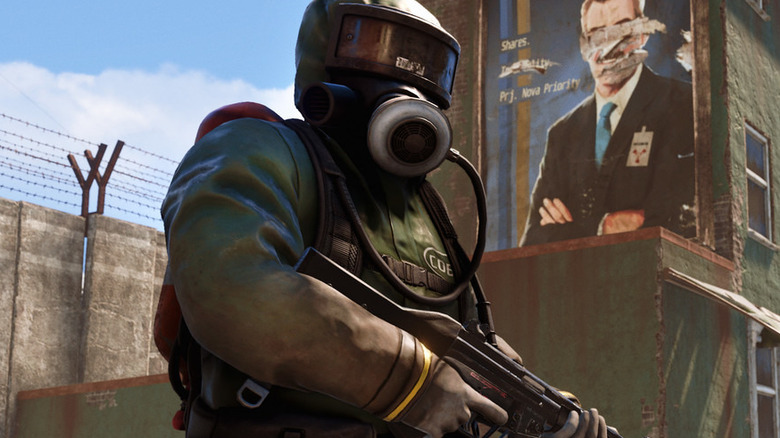 Facepunch Studios
Survival games have seen an uptick in popularity, Rust chief among them. This little indie survival title has grown throughout the years and transformed into a streamer's paradise. Some of the more popular Rust content creators include the likes of Valkyrae and xQc, and several console gamers might want to follow in their shoes. This desire wasn't feasible for the past several years, but thanks to new developments, the console market's distinct lack of Rust will be a thing of the past.
Recently, the ESRB website was updated with a rating for Rust Console Edition, apparently confirming that Xbox and PlayStation gamers will finally get their hands on the game in the near future. This isn't the first time news about a console version of Rust hit the internet — many gamers first learned about it in 2019. Unfortunately, 2020's pandemic resulted in numerous game delays, and Rust's console port was yet another victim of the year's game development troubles. But at long last, Facepunch Studios and Double Eleven are finally catching up with their dreams.
Originally, Rust Console Edition was announced for the PlayStation 4 and Xbox One, but pretty much every studio has been hedging their bets on then-current gen consoles. Even CD Projekt Red still thought Cyberpunk 2077 would launch on the PS4 and Xbox One — and release in Nov. 2020. Obviously, that all changed for CD Projekt Red. 
However, according to the ESRB rating, Facepunch and Double Eleven's plans have not changed. Even though the Xbox Series X|S and PlayStation 5 are currently available, Rust Console Edition is rated for the PS4 and Xbox One. Although, odds are the game will be playable on current-gen consoles through backwards compatibility.
Since Rust launched way back in 2018 and console gamers are only now receiving the game, the question of client version naturally arises. Will PS4 and Xbox One owners obtain the most up-to-date Rust client, or will they be a few patches behind? Unfortunately (and predictably), the game's rating summary doesn't hold any answers. The document only details features that have been in Rust for quite a while, including available weaponry, fall damage, and cannibalism. Not even the official Rust blog answers this important question.
Double Eleven hoped that Rust Console Edition would launch "with the dawn of 2021," and that prophecy will apparently come true. At this moment, it isn't entirely clear how far away the release is, just that it is over the horizon.