The Top Female Twitch Streamer Of 2020 May Surprise You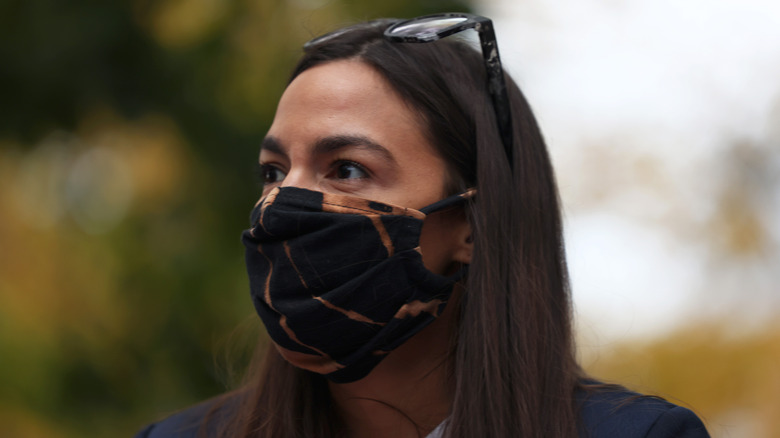 Michael M. Santiago/Getty Images
If you had to guess the most popular female streamer of the year, who would you pick? Pokimane, who is constantly topping most-watched lists and making news, is always a safe bet — but you'd be wrong this time. You might be surprised that the woman whom Streams Charts, powered by ESports Charts, says is the top female streamer of 2020 by peak viewers is Alexandria Ocasio-Cortez, the U.S. representative from New York.
A tweet from Streams Charts lists the top ten female streamers by peak viewers in order as Ocasio-Cortez, followed by Spanish-speaking Twitch partner Biyín, the Black Girl Gamers community led by Jay-Ann Lopez, Sigma, Pokimane, Becca, Ava, Lilypichu, Negaoryx, and Nihaachu. 
The list isn't shocking if you consider that AOC, as she's known, made news when she set a record for her first Twitch stream ever on Oct. 20. In fact, StreamCharts says that AOC got a peak viewer count of 438,688, as compared to second-place Biyín's peak of 179,526. Of note, AOC's debut stream included several other high-profile personalities — among them, Pokimane, streamer HasanAbi, and Minnesota representative Ilhan Omar, so she may not have been the only draw.
But Ocasio-Cortez's one-time event hasn't led to much follow-up streaming from the politician, who presumably has other things to do with her time what with all that's been happening in Washington, D.C. recently. So, this list may thus be a very different list than, say, the most popular female streamers of 2020 overall. 
And in fact, Streams Charts does have a Top 10 Female Twitch Streamers list for 2020 that looks a little more like what you'd expect, if you're familiar with the international streaming scene. Pokimane comes in at No. 1, and she's followed by Korea's Saddummy, Jinnytty (also from Korea), Amouranth, Lilypichu, itsHafu, 39daph, Korea's 2chamcham2, Pqueen from Turkey, and Spanish-speaking IamCristinini. The organization claims this list covers "which female streamers received the most attention in the past year."
It should also be pointed out that some other high-profile female streamers such as Valkyrae, whose viewership increased dramatically this year, would not be eligible for these lists, as she does not stream over Twitch. It would be difficult to do a direct comparison of metrics as a result. 
As for overall numbers, Streams Charts also ranked channels by peak viewers. AOC comes in at eighth on this list. No. 1 is PlayStation, followed by Riot Games at No. 2. Spanish streamer TheGrefg is the first individual on the list at No. 3, and he's ranked just above The Game Awards. Shroud and UbiSoft are fifth and sixth, respectively. Behind AOC, cosco and League of Legends European Championship take the last spots in the top 10.