Twitch's Latest Action Toward Donald Trump Is Turning Heads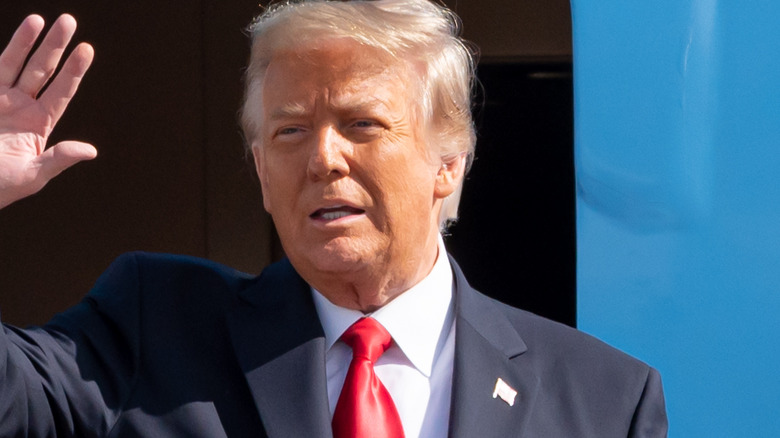 Noam Galai/Getty Images
After suspending former President Donald Trump from its platform earlier this month, Twitch has moved to indefinitely ban his channel, a decision which offers no chance for appeal.
In a statement to The Verge, a Twitch representative explained, "The President's statements continue to be interpreted as calls to action, and we are taking this action to remove the potential for harm to our community and the general public." The spokesperson also stated that Twitch will be "updating our policies as a result of our consideration of this situation." As of now, the company has not provided further details about what policies it seeks to change.
Trump's indefinite ban comes after a temporary suspension earlier this month after a riot at the US Capitol left five people dead and more injured. After the events at the capitol, Twitter also moved to ban the President in an attempt to prevent the dissemination of violent rhetoric.
This latest round of bans isn't the first time Trump has been chastised by Twitch. The platform has previously suspended his channel for streaming campaign rallies that violated Twitch's hate speech policies. Twitch fans have wasted no time voicing their opinions on the ban, one Twitter user quipping, "I can't watch my favorite egirl anymore. Very sad. Alexa play [D]espacito." The overall response to Trump's departure from Twitch seems to be surprise that he was even on Twitch to begin with, or a joyous "Bye, Felicia."
Politicians have recently broken into the streaming world, demonstrating the potential for a political platform via Twitch. In October 2020, Representative Alexandria Ocasio-Cortez broke streaming records when she broadcasted some of her first experiences playing the popular game Among Us. In the stream, Ocasio-Cortez played with well-known streamers like Pokimane and Corpse Husband. While Ocasio-Cortez's Among Us streams did not have specific political aims, her popularity on the platform proves that it can reach a wide audience.
Twitch has proven time and time again that it's taking violations of its user policies seriously. Earlier this month, Twitch removed the "PogChamp" emote designed after streamer Ryan "Gootecks" Gutierrez after he tweeted statements seemingly encouraging violence at the Capitol riot. This action and others shows Twitch's efforts to prevent further violence.
Twitch's decision to indefinitely ban Trump's channel follows smaller, more personal campaigns to deplatform the former President in other ways, such as digitally removing him from the 1992 film Home Alone 2. While no plans have been made to remove the cameo from the film, some fans want it, and argue that it's not out of the realm of possibility for Disney+.
Twitch has not indicated if it intends to lift Trump's ban in the future, or if it would even consider revoking its decision.