The Real Reason The WallStreetBets Discord Was Banned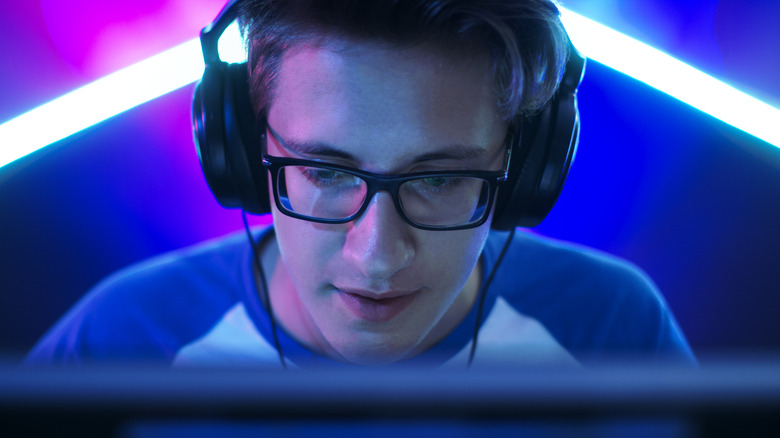 Shutterstock
Like so many businesses, GameStop had a rough 2020. First, the company earned scorn by trying to keep stores open during the COVID-19 pandemic. Later, it ended up permanently shuttering around 300 locations to cope with a dip in sales. But lately, GameStop's fortunes have changed. Maybe some magic happened after Reggie Fils-Aime, the former Nintendo of America president, joined the GameStop team. Perhaps people were just playing more games while staying at home. In reality, an online campaign to short squeeze the company's stock helped take that stock's price to new heights. The effort, led by r/WallStreetBets, led to the controversial trading group getting banned on Discord.
Investors are worried about the sudden spike in GameStop's stock, but is worry enough of a reason to permanently eliminate a Discord channel? Well, not exactly. Discord released a statement to The Verge, noting that the service had been watching WallStreetBets for some time because of hate speech. The statement explained, "Over the past few months, we have issued multiple warnings to the server admin. Today, we decided to remove the server and its owner from Discord for continuing to allow hateful and discriminatory content after repeated warnings."
Discord's announcement went on to specifically note the company has no ill feelings over GameStop trading, explaining, "we did not ban this server due to financial fraud related to GameStop or other stocks. Discord welcomes a broad variety of personal finance discussions." The Verge confirmed that the WallStreetBets server used hate speech, "including racial slurs."
Moderators from WallStreetBets responded to Discord on the group's subreddit, arguing that they don't have enough moderators to read through the surge of posts resulting from the GameStop news coverage. The statement claimed, "Discord did us dirty and I am not impressed with them destroying our community instead of stepping in with the wrench." The post continued, "That is pretty unethical." Coincidentally, the r/WallStreetBets subreddit was also temporarily unavailable for a time, though users felt mixed on whether the disappearance was due to Reddit or the mods making the group temporarily private.
The GameStop stock situation has created a lot of other news in recent days. Trading app Robinhood has suspended the sale of some stocks, including GameStop and several other businesses Redditors have targeted, like AMC. In a wild turn of events, Representative Alexandria Ocasio-Cortez and Senator Ted Cruz teamed up to fight against Robinhood's decision to block trading. While no one knows where the GameStop stock saga will go, it has certainly been an exciting ride thus far.