AOC Teases The Next Game She Wants To Stream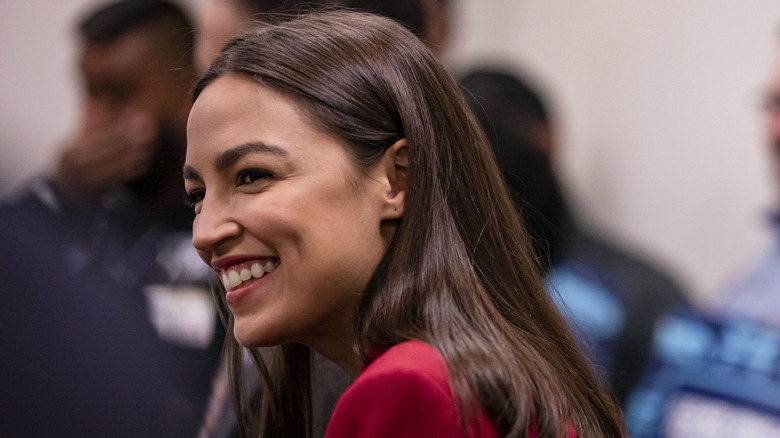 Samuel Corum/Getty Images
She's both the youngest woman ever elected to Congress AND the top woman streamer of 2020 by peak viewers (and eighth overall). She's Alexandria Ocasio-Cortez, best known as AOC whether she's fighting for progressive legislation or sussing out imposters. In her recent Jan. 28 Twitch stream, which unpacked the implications of the recent Wall Street/GameStop saga, fans who watched all the way until the end got a sneak preview of the game the Congresswoman/streaming star plans to play next: League of Legends.
Near the end of her stream, AOC dropped the literal last-minute surprise. After an informative deep-dive into the groundbreaking stock market situation and its political and social implications with other experts, gamers got exciting news. "Next time, hopefully, I'll be able to play a game. I've been practicing my League a little bit," AOC told hundreds of thousands of viewers. "I dusted it off. I was a little too self-conscious to play League in front of you all without having played in a long, long time, but maybe I will be at a level where I can at least not embarrass myself."
Now, this isn't the first time AOC has discussed her League prowess. This has actually been a long time coming, ever since she tweeted about working towards Bronze 5 back in Oct. 2018 while she was campaigning for her first term. She also celebrated her promotion to Silver III in a Jul. 13, 2020 tweet. On Nov. 4, 2020, AOC even chatted back and forth with popular streamer Pokimane in her own Twitter comments about possibly playing League together in the future.
The fan response was immediately effusive in the Twitch chat, as evidenced by the many all-caps replies. User elihsgo wrote, "I WANNA SEE YOU PLAY LEAGUE," followed by an army of exclamation points. User GrandCanonical's comment summed up the enthusiasm many of their fellow Twitch streamers have shown for AOC: "you must be the coolest member of congress." And clearly, fans don't mind if the Congresswoman is a little rusty, as user Prime Gamingjiiski simply declared her "LEAGUECHAMP."
Thanks to her record-breaking Among Us stream and this week's stock market update, all eyes are on AOC to see when a League of Legends stream might become a reality. Whether she plays as her main (Sona) or mixes it up, the excitement is palpable. It's unclear when she will show off her League skills on Twitch, but it's sure to be a massive hit with the gaming community.