New Leak Reveals Surprising News For Breath Of The Wild 2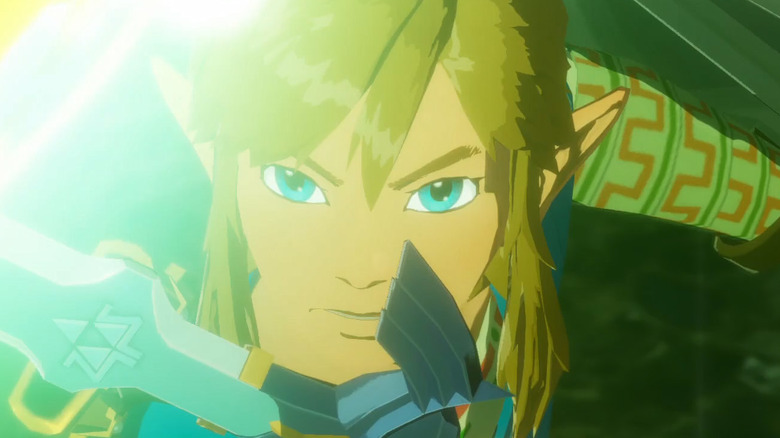 A preorder listing on an Austrian videogame retailer's website indicates that fans may be returning to Hyrule sooner than expected. Retailer Gameware.at posted that The Legend of Zelda: Breath of the Wild 2 will be arriving in the second quarter of 2021, which indicates the game could be here anywhere from April to September.
This news was first shared on Twitter by So_Ethereal, who found a Gameware.at listing of Breath of the Wild 2 with a Q2 release date. So_Ethereal also observed that the listing could either refer to quarter two on the calendar year, which runs from April to June, or Nintendo's fiscal year, which covers July to September.
A Reddit post discussing the leak observes that the dates most likely refer to the fiscal year, considering the fact that the listing originates from Australia. Discussion on that Reddit forum notes that while this could easily be a placeholder date, Gameware.au has correctly predicted release dates before. In 2020, the Australian retailer correctly predicted Kingdom Hearts: Melody of Memory's November 2020 arrival almost to the day.
Nintendo has been cagey about when Breath of the Wild 2 would arrive. Rumors first circulated regarding a possible 2020 release date, although that window has come and gone. Without any official announcements, it's hard to tell if 2020 was ever a real target for Breath of the Wild 2. Then again, if development fell behind because of coronavirus disruptions, a new mid-2021 release date would make sense.
As exciting as it might be to imagine Breath of the Wild 2 arriving in a couple of months, even the Twitter user who found that optimistic listing thinks that the game might not arrive until late 2021, if it even comes out this year. Gameware.au has since changed its listed release date, and many industry insiders agree a late 2021 release, in either November or December, is more likely. The recent Cyberpunk 2077 refund debacle has served as a cautionary tale for the entire industry about the risks of launching a high-profile title before it's ready, even if fans seem to be tiring of delays. 
Considering how vital The Legacy of Zelda series is to Nintendo and the legions of eager fans waiting for a new entry, it would make sense for the company to take its time and tie the release to the holiday season. In the meantime, Zelda diehards can explore the unexpected prequel that arrived at the end of 2020, Hyrule Warriors: Age of Calamity.