This GTA Online Ad Is Causing A Frenzy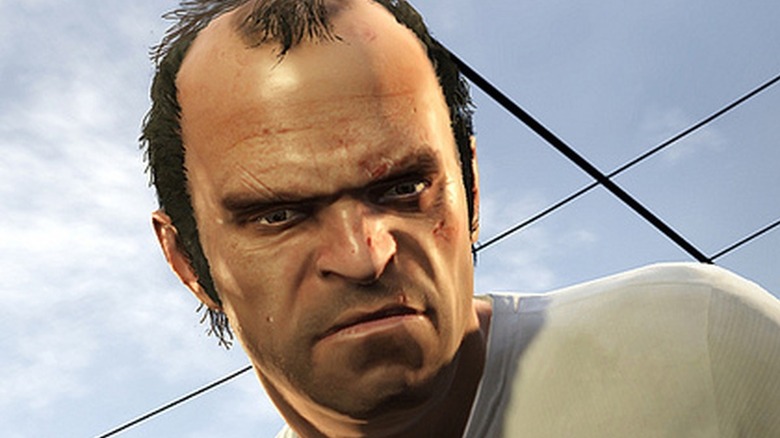 Grand Theft Auto fans are no strangers to waiting, but that hasn't stopped them from searching for clues each time a new bit of content drops. Dedicated GTA leakers have reported that GTA 6 is almost complete, then retracted that statement just as quickly, leaving fans confused about when they can expect the newest installment. Other rumors, like the possibility of a female protagonist in GTA 6, have circulated in some form or another for years. With fans scrambling for any hint of GTA 6 information, a new ad has raised eyebrows in the online rumor mill.
An ad for the new VETIR van in GTA 5 has caused fans to speculate that GTA 6 might be closer than they initially thought. In a now-deleted Reddit post (via TheGamer), one user speculated that the font on the VETIR ad contains a hidden "VI," seen in the first two letters of the word. Because the E's vertical line and horizontal lines are disconnected, some fans have seen this specific font as a secret sign that a GTA 6 announcement is on the way from Rockstar. One commenter called the analysis a "reach," while another quickly pointed out that the vertical line of the E is seemingly more highlighted than the rest of the letter, making it stand out more brightly.
A separate post has speculated that Rockstar will announce GTA 6 during this year's Super Bowl on Feb. 7. While other fans were quick to voice their disbelief, the truth is that no one really knows when or where the next GTA 6 announcement will arrive. GTA 5 actor Shawn Fonteno pointed out to his Instagram followers that fans wouldn't be pleased if Rockstar pushed the game out too early. He also discussed Rockstar's commitment to quality and its dedication to offering new GTA 5 content in its next-gen facelift.
Rockstar has been known to tease fans in the past, or at least appear to tease fans. In 2020, Rockstar changed its logo temporarily, which sparked online debate about when GTA 6 would be announced and inspired conspiracy theories about what the game's setting and release date.
Regardless of when GTA 6 appears, fans have a lot to look forward to. GTA 5 was released way back in 2013, and even though fans have enjoyed almost a decade of terrorizing Los Santos, maybe it's time for a new installment in one of gaming's most famous franchises.