Borderlands Fans Get The Revival They Were Hoping For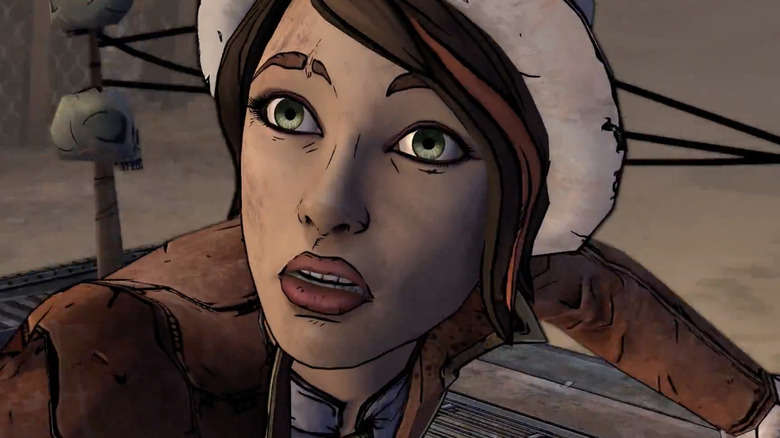 Tales from the Borderlands is coming back. The episodic action/adventure/comedy will hit stores once again on Feb. 17, Borderlands series game developer Gearbox tweeted on Wednesday, Feb. 10.
All five episodes of the game will be released in one package bundle, Greg Miller, co-host of The Borderlands Show, said. One small difference to the game's re-release is that this time, it will not feature a choice comparison screen for players to look at their decisions (as well as other players' decisions) at the end of each episode. The game will be released for Xbox One, PlayStation 4, and PC and will be backward-compatible for next-gen consoles as well.
Originally released by Telltale Games, the game deviated from the Borderlands series' normal shoot-em-up style gameplay in favor of a storytelling adventure dependent on player choices. Even so, it is a vital part of the Borderlands story.
"When Telltale disappeared at the end of 2018, much of its catalog, including Tales, disappeared with it," Miller said on the show. "But now, finally, Tales is back."
Tales from the Borderland bridges the gap between Borderlands 2 and 3, Gearbox's most recent installment. The game follows the story of two Hyperion employees and a con artist who are, according to Gearbox, "on a quest borne of greed but destined for greatness."
"Basically, Tales from the Borderlands is an essential piece of Borderlands canon, and arguably one of the funniest games ever made," Miller said. He later added, "What's great about Tales from the Borderlands is you're making choices and you're kind of like watching a movie." Miller and the panel of The Borderlands Show heaped praise upon the writing and voice acting in Tales from the Borderlands, driving home what an exciting moment this is for fans of the series.
Telltale Games shuttered in September 2018 after abruptly laying off all 250 of its employees. Despite some critical success for its games, the studio was plagued by a toxic work environment, low sales, and a culture of crunch, among other things, according to a 2018 article from The Verge. Telltale is best known for its narrative-driven gameplay in titles such as The Wolf Among Us, The Walking Dead, and of course, Tales from the Borderlands.
The Borderlands 3 Director's Cut DLC is slated for release on March 18, Gearbox announced. This will feature a series of new missions focusing on Ava, one of the game's most hated characters. Additionally, new actors have recently joined the upcoming Borderlands movie.