You Can Buy PS5s For A Half Million Dollars Each At This Store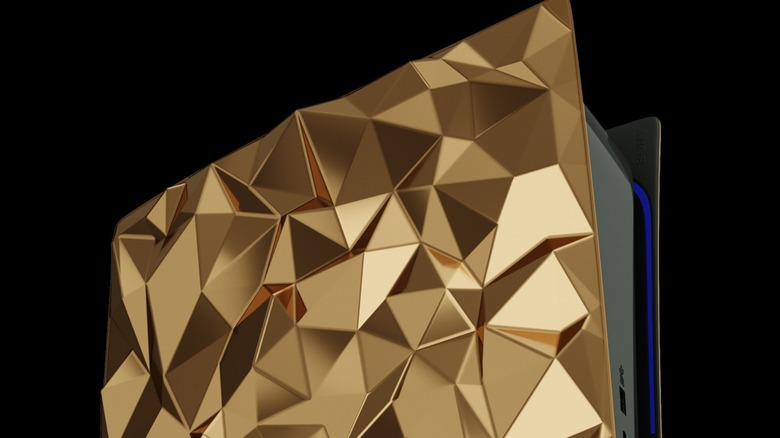 Caviar
PS5s continue to sell out and are unavailable around the country, but there are a few in your reach — if you want to throw down half a million dollars. Caviar, a "Russian brand of exclusive high-end accessories," created a customized PS5 called the Golden Rock, and it costs way more than most people would ever dream of paying for a PS5.
Advertisement
As its name suggests, the custom shell features eight sheets of gold, pressed and formed into a stunning geometric design. Caviar's listing for the Golden Rock describes it as "a real masterpiece of jewelry." The case's designers drew inspiration from "the unique geometry of the gold ore and the graceful, beautiful outlines of the rock," but they didn't stop there.
Instead of continuing the geological theme, designers opted to accessorize in style by covering the DualSense controller in crocodile leather, providing "tactile pleasure" for anyone who grips the pricey item. While alternate PS5 faceplates have faced challenges on the way to market, players can finally get their hands on a black DualSense, albeit one covered in leather. Earlier this month, yet another company entered the colored faceplate game, this time daring Sony to find a flaw in their perfect business plan. Of course, those faceplates probably can't fit over Caviar's solid gold additions to the PS5.
Advertisement
The Golden Rock's 18 carat gold plates add a bit of weight and bulk to the PS5's already massive frame, but the person shelling out half a million dollars to get a PS5 can probably just buy a bigger entertainment center to house their conversation piece. Caviar's description of the customized console does not offer any measurements for the expanded frame, but it does note that the gold used weighs "about 4.5 kilograms."
Exclusivity drives Caviar's appeal, and to further highlight the Golden Rock's rarity, Caviar is only producing nine of the golden plated consoles. For anyone wanting to purchase all nine, that'll cost a cool four and a half million dollars. At least scalpers probably won't be pursuing Caviar's expensive PS5s. A recent study revealed that, at the end of 2020, scalpers made up 10-15% of all PS5 sales. Even though some fans have attempted to scam scalpers and deliver a healthy dose of karma, there's seemingly no end to the PS5 shortage. Unless, of course, you have big dollars to hand over to Caviar.
If a gold plated PS5 is too rich for your blood, don't worry. Caviar offers two less expensive PS5 options. Gamers can pick up an alligator leather PS5 for a little over eight thousand dollars, while a carbon PS5 will set players back almost six thousand dollars. 
Advertisement