Elden Ring Website Update Has Fans Stirring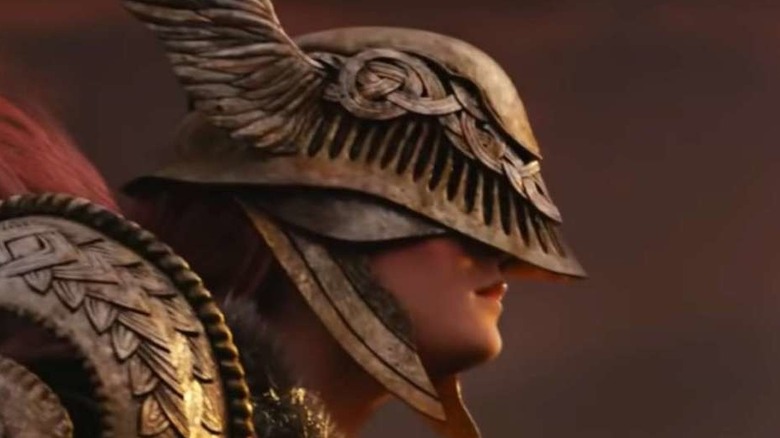 FromSoftware devotees are a different breed of gamer. They've waited patiently )or mostly patiently) for Elden Ring news since it was first announced in 2019. Now, a new detail on the official Elden Ring website has fans wondering if some kind of update might be on the way.
Without warning or pomp, Bandai Namco updated Elden Ring's website to include an ESRB rating. The rating, tucked at the very bottom of the homepage, explains that the game is RP, or rating pending, and M, for mature. This tracks with FromSoftware's other games, like Demon's Souls or Sekiro: Shadows Die Twice, which feature stylized violence and more gore than a hunter can shake a blood vial at.
Several fans noted that the provisional rating could mean that FromSoftware is preparing to release Elden Ring, or at the very least share a date for fans to look forward to. Still other gamers stated that the rating isn't actually a new development, as the announcement trailer also included provisional ratings. In fact, FromSoftware's upload of the trailer on YouTube includes a rating from CERO, Japan's game rating system, at the beginning and end of the video.
Still others had some fun with the guessing. Since fans believe/hope that every announcement or press conference may hold Elden Rings information, one gamer jokingly tweeted that perhaps music streaming service Spotify might be dropping a FromSoftware announcement at its press conference event. Though the tweet was in good fun, it reflected the fan community's intense desire for any kind of update on Elden Ring.
It seems that nothing can stop fans from speculating about Elden Ring, and a new rumor pops up every couple of months. Late last year, Yasuhiro Kitao, FromSoftware's communications liaison, posted a tweet thanking players for supporting FromSoftware and voting for Elden Ring in the 2020 Game Awards. He also stated, "See you in 2021," which many fans took as a sign of Elden Ring's impending release.
Originally announced in 2019, Elden Ring promised fans a fantasy experience set in the Souls universe, this time with Game of Thrones author George R.R. Martin assisting Dark Souls creator Hidetaka Miyazaki in the storytelling of the game. Back in December 2020, rumors circulated that Elden Ring would be delayed, like so many 2020 projects. A few weeks later, an interview revealed that the game might be more complete than gamers initially thought. Those eagerly awaiting FromSoftware's newest game are looking for hints everywhere. Hopefully the new rating listed on Elden Ring's site is the beacon of hope they need.